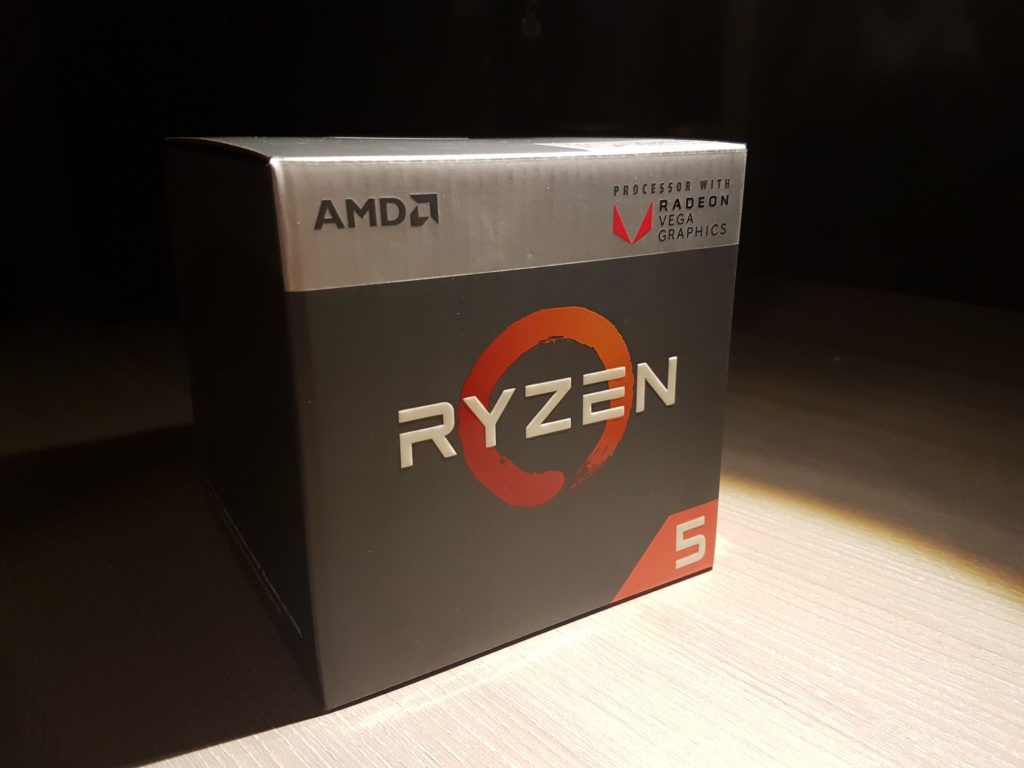 INTRODUCTION
Last week we received our Ryzen 5 2400G. Happy as a kid i made my way to the geek room, looking for my Gigabyte AB350M Gaming 3 motherboard I bought a few months ago. The Gigabyte AB350M Gaming 3 is compatible with AMD's new Raven Ridge cpu's since the last Bios update dated 02/13. Update AGESA 1.0.0.0a + SMU 30.67.0 for Raven Ridge CPU performance enhance'. Sounds okay, but i did not flash this motherboard before.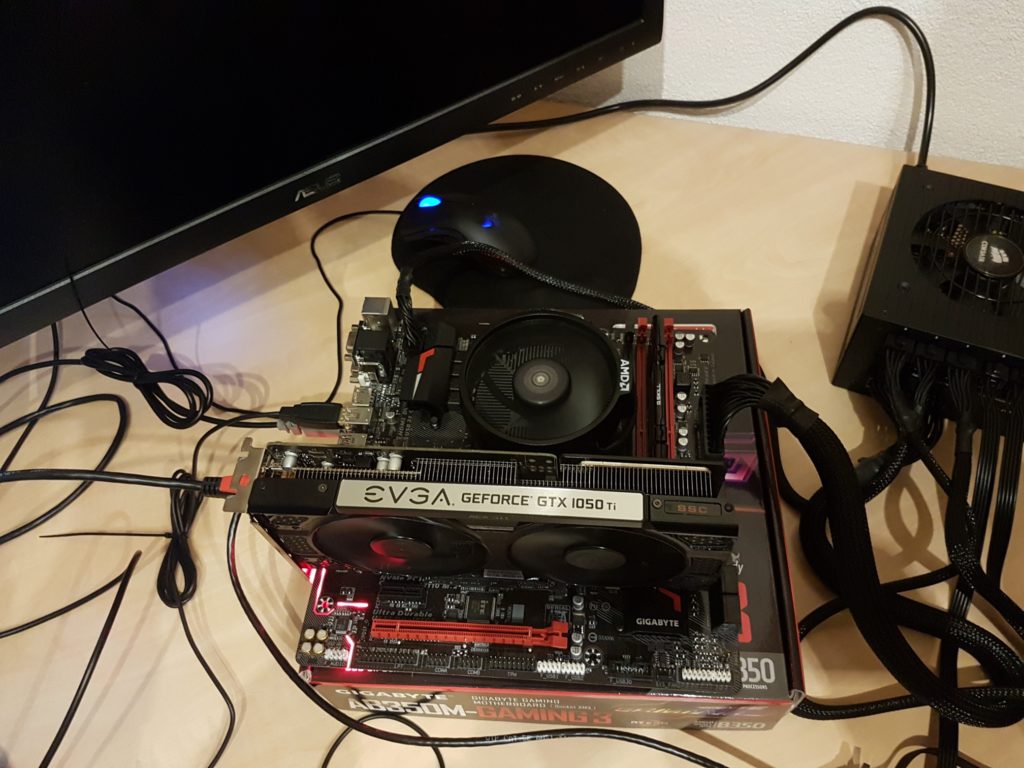 First we installed a fresh copy of Windows 10, then the Gigabyte App functionality, and finally Gigabyte's @bios tool to flash the bios. luckily I am in the possesion of a Ryzen 3 1200 and a spare GTX 1050Ti, making it easy to flash the bios on our Gigabyte motherboard. This is a problem you have to keep in mind. If you buy everything fresh, look for the following label on the boxes of AM4 motherboards 'AMD RYZEN DESKTOP 2000 ready'.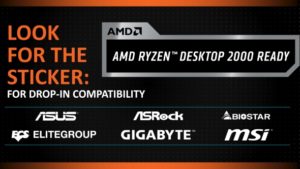 There is one thing i want to point out regarding our setup. When i first booted the motherboard with the Ryzen 3 1200 and 3200Mhz Ram, the board went in a boot loop. I even exchanged the PSU thinking it was bad. In the end i got my head around the fact that the motherboards bios could not recognize or detect both sticks @ 3200 Mhz speed. This was a familiar Ryzen problem at the introduction of the AM4 platform. Luckily the bios updates in between then and now fixed these memory issues, but it had not been fixed on our board yet. Eventually, after taking one memory stick out, the board booted. Once we completed the update to AGESA 1.0.0.0a, both memory sticks worked fine at their rated 3200Mhz speeds.
| | | | | |
| --- | --- | --- | --- | --- |
| | Ryzen 3 1200 | Ryzen 3 2200G | Ryzen 5 1400 | Ryzen 5 2400G |
| CPU Socket | AM4 | AM4 | AM4 | AM4 |
| Manufacturing Process | 14nm | 14nm | 14nm | 14nm |
| Cores/Threads | 4/4 | 4/4 | 4/8 | 4/8 |
| CPU Base Clock | 3.1GHz | 3.5GHz | 3.2GHz | 3.6GHz |
| CPU Boost Clock | 3.4GHz | 3.7GHz | 3.4GHz | 3.9GHz |
| L2 Cache | 2MB | 2MB | 2MB | 2MB |
| L3 Cache | 4MB | Unknown | 8MB | 4MB |
| Memory Support (Dual Channel) | 2667MHz | 2933MHz | 2667MHz | 2933MHz |
| TDP | 65W | 45-65W | 65W | 45-65W |
| iGPU | – | Vega | – | Vega |
| iGPU Stream Processors | – | 512 | – | 704 |
| iGPU Clock Speed | – | 1100MHz | – | 1250MHz |
| Included Heatsink | Wraith Stealth | Wraith Stealth | Wraith Stealth | Wraith Stealth |
| MSRP |  $99 | $99 |  $149 | $169 |
The Ryzen 3 2200G and Ryzen 5 2400G are direct replacement cpu's for the Ryzen 3 1200 and Ryzen 5 1400. The 2200G and 2400G feature higher clockspeeds, faster ddr4 support and lower internal latencies, meanwhile sacrificing on the L3 cache in favor of the integrated Vega iGPU. Our 2400G has the 'largest' iGPU, sporting 704 streamprocessors running 1240 Mhz clock speed.
TEST SETUP
We already discussed the new Raven Ridge chips in a previous blog, showing you the benchmark results of our collegues around the world. This time we are comparing the GPU power of the Ryzen 5 2400G at stocks speeds vs overclocked. As a reference we include a  GTX 1050 Ti to the mix. The Ryzen 5 2400G runs @ 1240mhz iGPU and 1600mhz overclocked. In our situation the Ryzen Master Utility didn't play nice when overclocking the iGPU. We had to up the clockspeeds, SOC voltage (1.30v) and the iGPU voltage (1.25V) in the bios.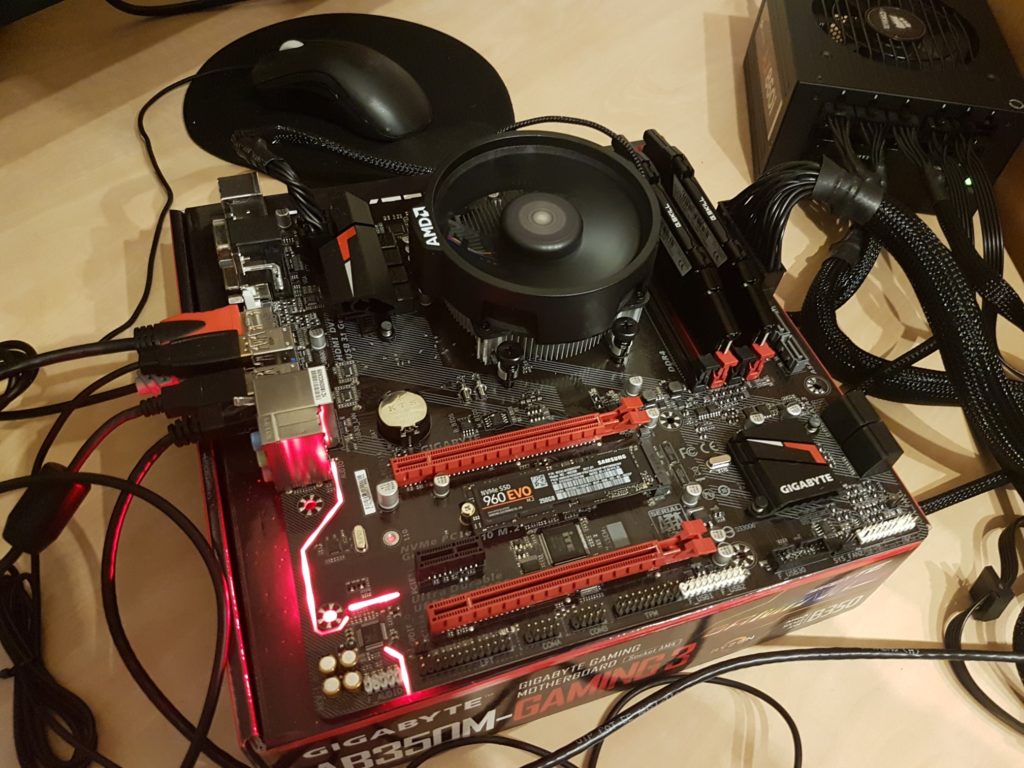 Testsystem 4: Ryzen Raven Ridge 2400G
Memory prices are still at an all time high, making it obvious the 2×8 GB config is a mismatch for a budget build like this. The PSU with it's € 200,00 pricetag falls in the same category. Look for a 2×4 GB kit instead, and a decent 80 plus bronze 450 watt PSU. Doing this keeps your total system budget just shy of € 500,00, excluding a case of your choice. As a case we would opt for the recently discussed Cooler Master Q300L costing less than € 40,00 and providing excellent airflow.
Our benchmark suite of today is purely GPU related: PC Mark 8 (creative), 3DMark Firestrike, followed by The Rise of the Tombraider DX12, GTA 5 and Battlefield 1. Furthermore, we will talk about temperatures, power usage and overclocking. All game tests will be performed on low and medium settings focusing on playable FPS. We think at least 30 FPS is playable, 40-45 FPS is average and 60 FPS is good. On forehand we don't expect the 2400G to give us 60+ FPS, so no illusions there.
BENCHMARKS
The PCMark 8 Creative benchmark includes workloads typical of enthusiasts and professionals who work with media and entertainment content. With more demanding requirements than the Home benchmark, this benchmark is suitable for mid-range computer systems. PCMark 8 Creative includes web browsing, photo editing, video editing, group video chat, media transcoding, and gaming workloads. The benchmark below is tested at stock speeds for both the Ryzen 5 2400G and 1050 Ti.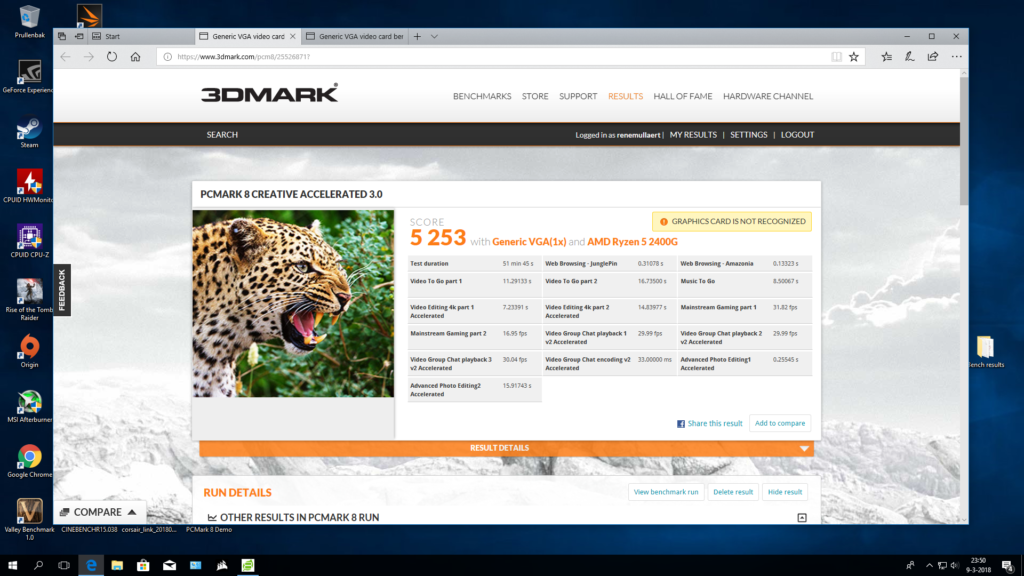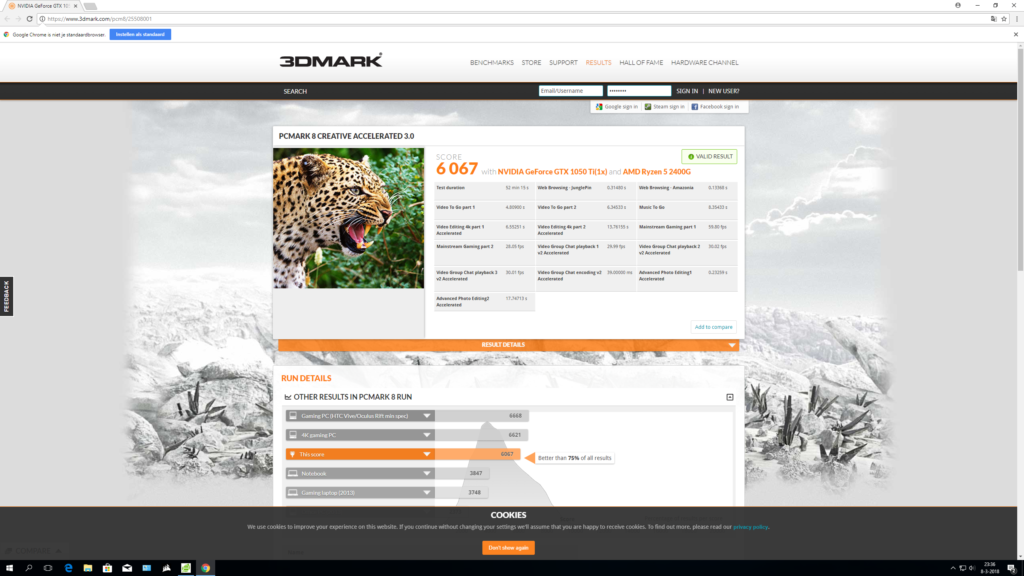 The results of the 2400G + 1050Ti are 15% better than the 2400G with it's integrated iGPU, scoring 6.067 points with 1050 Ti, and 5.253 points with the Vega iGPU active. If we look at the price performance ratio, the Ryzen 5 2400G hands out the best cards in this test.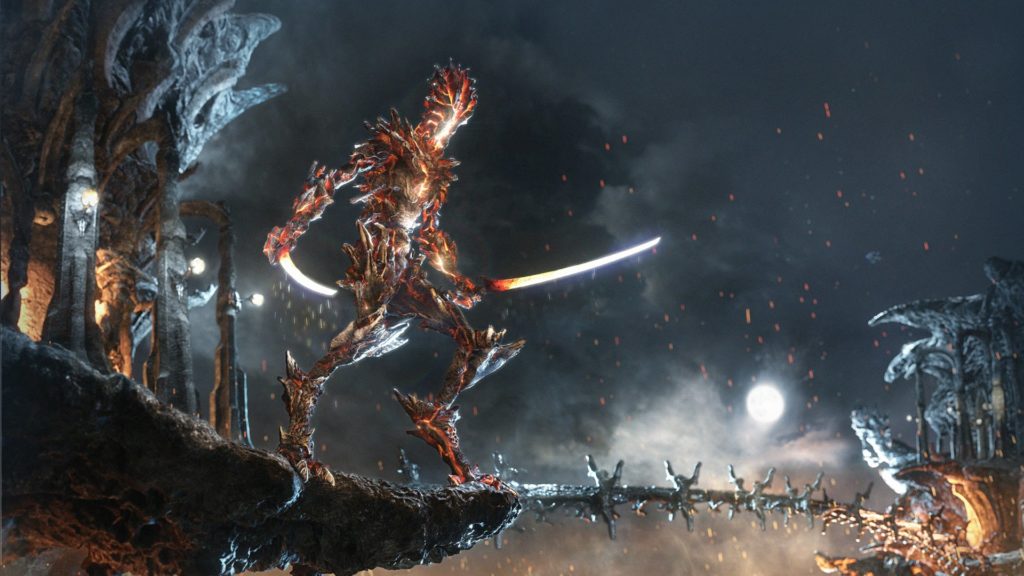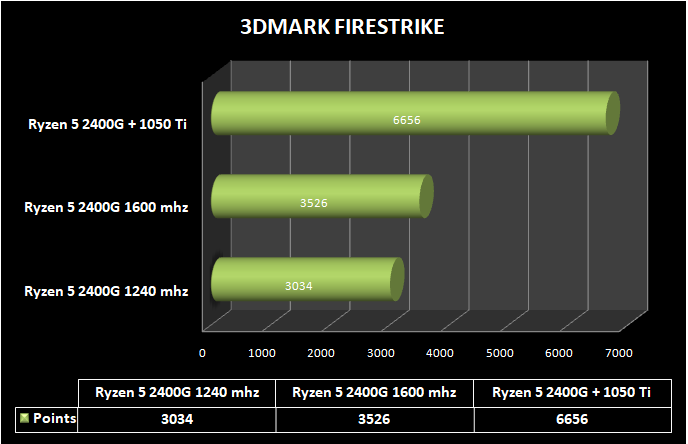 3DMark Firestrike returns expected results. The Ryzen 5 2400G scores 3.034 points @ 1240 mhz and 3.526 points once overclocked to 1600 mhz. The dedicated GTX 1050 Ti scores double the points of the Ryzen 5 2400 Vega iGPU with 6.656 3DMARKS.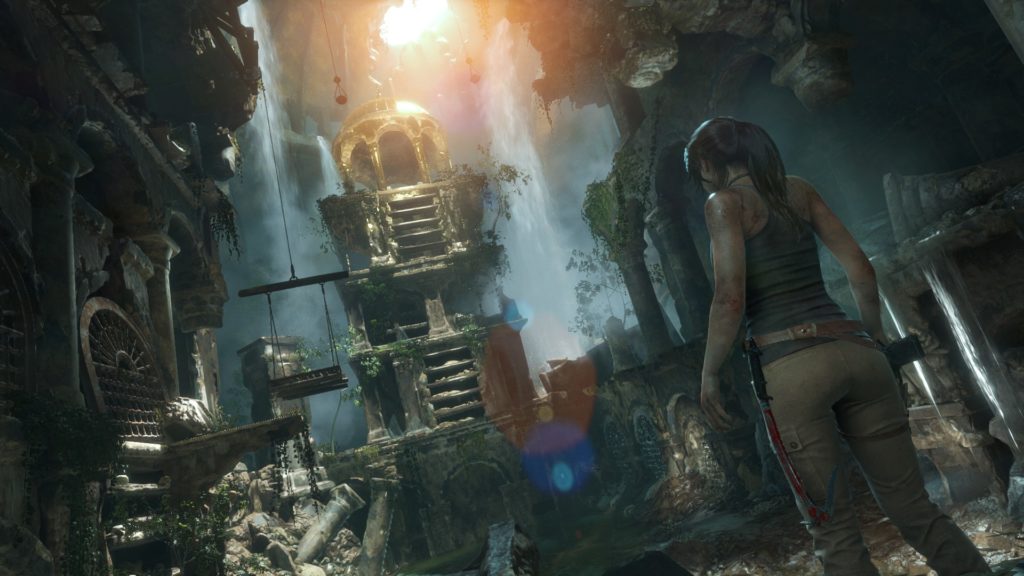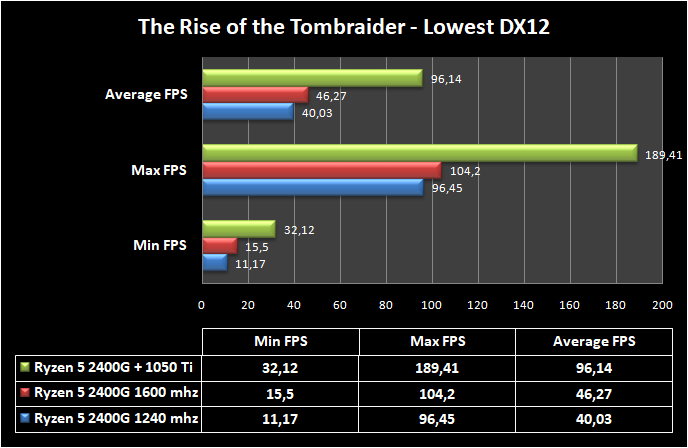 The Rise of the Tombraider is a demanding Direct X 12 title, both on CPU and GPU's. What about about the performance of an integrated GPU? Well, the results above are based on 1080P, Direct X 12, lowest settings, V-Sync disabled. Stepping up to medium made the game unplayable on integrated graphics, exceeding the dedicated 2GB videomemory of the iGPU. Despite running only lowest settings the game is very playable and still looks good. Overclocking gave us a 15% increase over stock. The results are measuren using TRTR's ingame benchmark.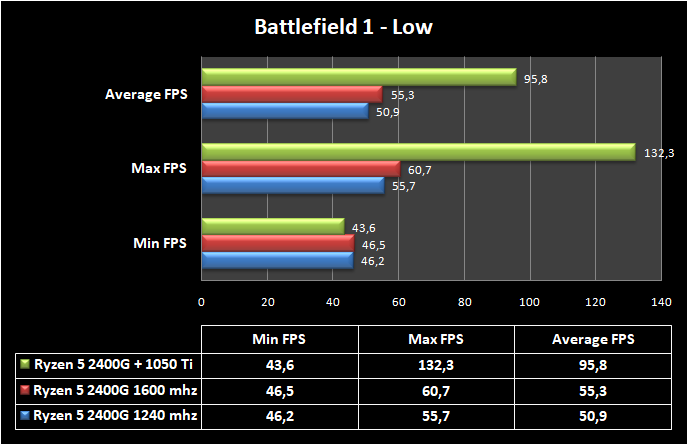 The Ryzen 5 2400G generates 50 FPS on average running Battlefield 1. The NVidia Geforce GTX 1050Ti almost doubles that to 95.8 FPS. Overclocking the 2400G's iGPU, we saw a 10% increase in frame rates. Playing at 50 FPS, 1080P on integrated graphics is not more than amazing. Somehow the GTX 1050 Ti lowest FPS were on par with the Ryzen 5 2400G. We will test this further.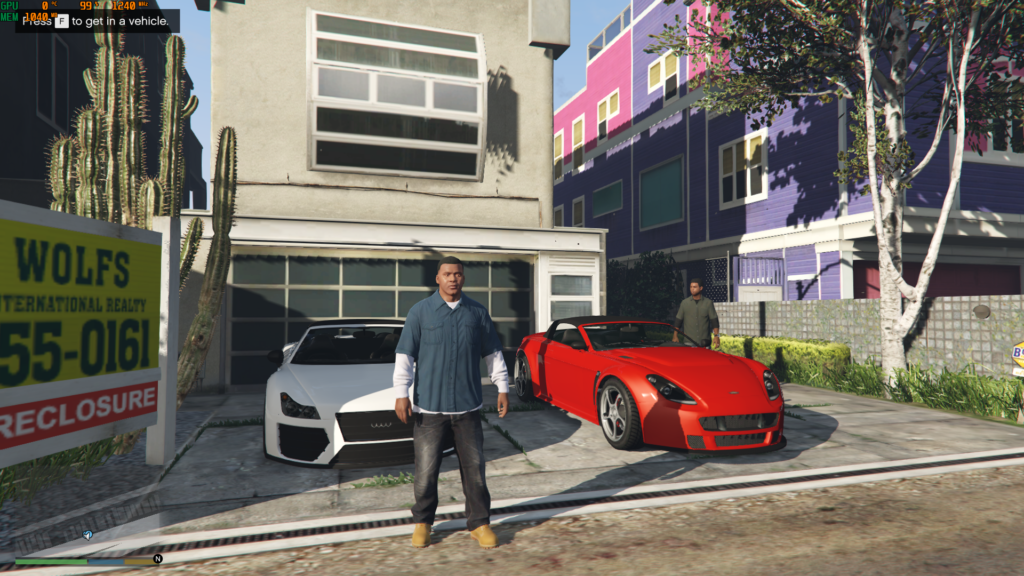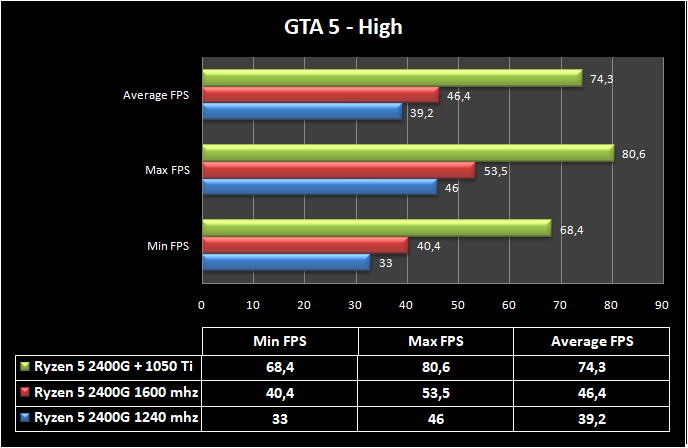 GTA 5 Online gives us more or less the same results as Battlefield 1. The open world (do what you like game) runs very nice on the VEGA iGPU, especially once overclocked. Running the iGPU @ 1600mhz gave us a 20% increase in FPS, landing somewhere in the mid 50's, with a minimum of 40 FPS, making this a very fluent gaming experience.
While gaming, the power consumption of the whole setup hovered between 105 and 120W which is ridiculously low for a gaming setup. With the GTX 1050 TI included the power consumption doubled to 205W.
Conclusion
The Ryzen 5 2400G has left us with an excellent impression. Performing well in CPU and especially GPU intensive tasks. Momentarily, the Ryzen 5 2400G is especially more relevant because of GPU prices. Even previous budget solutions like the GTX 1050 Ti's are changing hands for € 200,00+. As long as these GPU prices remain at an all time high, AMD's Raven Ridge platform is a good starting point for system builders and gamers, providing them with nice upgrade path later, adding a dedicated GPU to their systems onces prices come down.
If you think of getting a Ryzen 2400G and intent to overclock the iGPU, we should advise you to invest in a beefier AM4 CPU cooler. At some point the stock AMD Wraith Stealth cooler was not able to cool the cpu properly, and the Vega iGPU started throtteling, exceeding temperatures over 100 degrees on the iGPU part. Introducing a 120mm Corsair Maglev fan, blowing over the CPU and VRM's reduced temperatures, but only for a few degrees. For a small testing period this will not post any problems, but running these temperatures in the long term will definitely shorten the lifespan of your CPU. We are thinking of performing a new test with a better cooler in the coming weeks. We keep you posted.