Introduction
Every year seems to pass faster and so do pc components. Asking ourselfs which components are best for gaming is a topic that gets discussed almost every week here at Techjunkies.nl. Not physically on our blog but just that people ask me in person doubting about their hardware of choice. It often starts simple as: 'I need a new SSD because it is filled to the brim with games. Should i now add another SATA SSD or upgrade to NVMe? But my motherboard does not have an M.2. slot, so I should also update my motherboard and CPU. In the end you see yourself building a whole new pc despite only wanting a new SSD to begin with…..
If you look at it objectively you can almost always upgrade an existing system or just buy one completely new. It all starts with defining your budget. And there we touch on the difficult part of this blog, because what is an average pc budget? For one user this is € 1.500,00 whereas another interpretes average as a maximum of € 750,00.
We know out of experience you can save yourself some money buying used hardware but at the same time this involves some risks regarding warranty and not knowing how the previous user treated your 'newly' acquired hardware. For that sake we dedicate this blog to new hardware only and set our budget to a maximum of € 1000,00. We assume you already own a keyboard, mouse and monitor because those choices are very specific and subjective. So what system can we build making the most of our € 1000,00 if we look at gaming performance and it should also look the part standing on your desk!
Which CPU to choose for gaming end of 2019?
2019 was the year of Ryzen 3000 series cpu's. AMD introduced the Matisse Zen 2 Ryzen 5 3600(X) , Ryzen 3700(X) Ryzen 9 3900X and Ryzen 9 3950X improving IPC significantly compared to previous Ryzen 2000 Zen+. If your sole purpose is gaming, there is no need to go for an 8-core 16 thread cpu as the Ryzen 7 3700X but you could stick with the 6-core/ 12 threaded Ryzen 5 3600 saving you some money. The reason we do not recommend Intel here is that most gamers nowadays stream their gameplay while gaming so more cores are welcome. With Twelve threads to your disposal you prevent framedrops from happening especially if Windows decides to do some updates while you're gaming and streaming. Enabling PBO and Auto OC on your motherboard makes sure the Ryzen 5 3600 pushes every frame to your videocard without needing to manually overclock. This could prove usefull for first time builders or users that don't want to fiddle with their systems.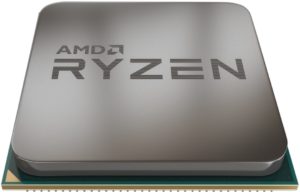 Which Motherboard to choose for your gaming pc end of 2019?
Choosing for a Ryzen 5 3600 cpu means we should also opt for an AMD motherboard with an AM4 socket. Momentarilly there are still no AMD B550 motherboards available but only X570 which starts around the € 200,00 mark. Because we are not building a high end AMD build we would advice you to think of an AMD B450 last generation motherboard.
The only catch here is that AMD B450 does not always work out of the box with Ryzen 3000 series cpu's. Older retail stocks often contain motherboards wil biosses before the release of Ryzen 3000. To make it easier for the consumer and to guarantee a Ryzen 3000 cpu works in a B450 motherboard you should seek for a board with the addition -MAX to their name. A few boards are available. Most shops also offer the option to update your bios on non-MAX boards for a few Euro's more. We look for a motherboard that has at least two M.2. connectors, an ALC1220 sound chip two PCI-E slots and a properly cooled VRM. If we add all these selection criteria there are four motherboards just around the € 200,00 mark and they feature and X570 Chipset thus PCI-E 4.0 compatible. We selected the Asrock X570 Steel Legend, the MSI X570 Gaming Plus, the MSI MPG X570 Gaming Edge Wifi and the Gigabyte Aorus X570 Elite. We opt for the Gigabyte Aorus X570 Elite having a better VRM 6+2 than the other boards making overclocking and an update path to a Ryzen 9 3900X without complications. If you can't miss Wifi than the MSI Gaming Edge Wifi is the way to go. If you want to save a few bucks than opt for the € 180,00 Asrock X570 Steel Legend that also has USB 3.2 gen2.
Which Storage solution to use in your Gaming PC end of 2019?
If you are a gamer you certainly hate a slow booting pc and loading times between chapters and scenes. To speed up your pc in general including loading of games we are ditching mechanical harddrives but only opt for SSD's. Lately NVMe SSD's are becoming cheaper due too the development of better production processes, competition and the introduction of four-layered QLC memory. We have place for two NVMe drives in our system and best of all we don't need cables to connect them so everything is nice and tidy. For now we stick with one to stay within our tight budget. Last time I installed a part of my Steam Library and Origin I ended up with 500GB+ for just 6 games. So 1TB would be wise. Intel's 660P 1TB NVMe QLC drive now cost € 109,00 and is one of the cheaper but faster 1TB NVMe drives.

Which Memory to buy for your new Gaming pc end of 2019?
We can talk very briefly on memory for Ryzen. You want dual channel memory at least 16GB, in a 2×8 GB configuration as fast as possible with lowest timings. Luckily DDR4 memory prices have come down. We advise you to opt for a 3200Mhz CL14 kit or 3600Mhz CL16 2×8 GB. We opt for a G-Skill NEO kit 3600Mhz CL16 kit for € 110,00. With the Fancy RGB and classic Trident-Z look you can't do anything wrong. Don't forget to put the modules in the 2nd and 4th memory slot and set the correct speed in the bios otherwise it could be running at lower spec.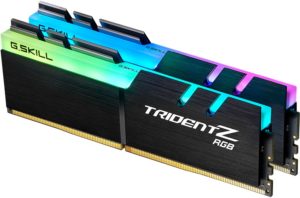 Which videocard to buy end of 2019?
Probably the most anticipated part of your new build, the GPU. We assume that in 2019 everyone that buys a new monitor should opt for 2560×1440 60Hz or Full HD 1080P with high refreshrate 144Hz. Momentarilly the middle ground is formed by the RTX 2060 and AMD Radeon 5700 able to hit 60FPS 1440P in most triple A Titles with medium to high settings. The Radeon 5700 offers just a tad more performance than the RTX 2060, therefore our choice would be the AMD Radeon RX 5700 which costs € 349,00 on average. As an example we display the XFX RX 5700 DD Ultra below.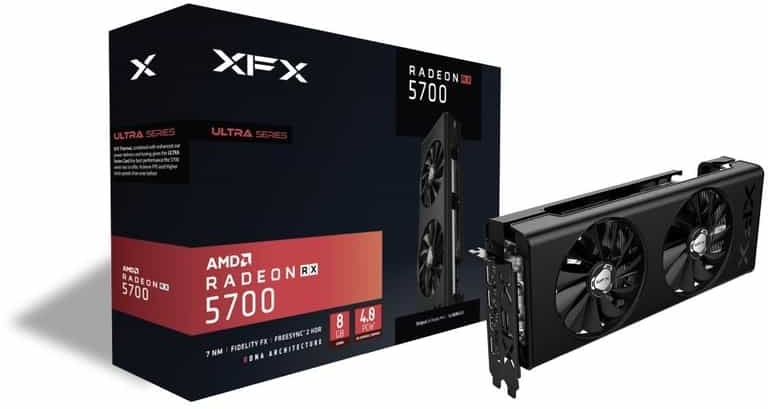 Which case and power supply to buy end of 2019?
Finally we have to place the whole system in an enclosure and we need a PSU to power our system. Luckily the power consumption of a Ryzen 3600 series is modest due too it's 7nm production process. The same holds for the power consumption of the AMD RX 5700. In short we don't need a 1000 Watt PSU but 650-750 Watt would be advisable. As you may know most PSU's reach maximum efficiency once loaded for 50%.
We reckon this system uses about 300-350 Watts from the wall when gaming and a bit more once CPU and GPU are overclocked. Furthermore we want the PSU to be modular so that we don't have excess cables in our case, they have to be all black, no ketchup and mustard… And it has to be 80 Plus Gold certified making it an efficient PSU. Our case should provide plenty of airflow, have at least two 120mm fans and a tempered glass side panel to show off your new hardware. At this point we exceed our € 1000,00 budget with a few Euro's but rest assured these Euro's are well spend! We ended up with a Cooler Master MWE Gold 650 Modular € 69,00 and a Corsair 275R Airflow White @ € 65,00.
We hope this blog gives you some direction when looking for Christmas parts. We did not go in depth just to keep things simple. Maybe you have questions about our build or you would have adviced another system configuration. Please let us know what you decided on in the comments below. Part prices especially for memory, power supplies and cases can differ on a daily basis. In total we spend € 1097,00 for this configuration. If you make some consessions on the case, memory kit or NVMe drive (512GB instead) you can reach our target of € 1000,00 for a new complete system. Have a nice holiday season!