AMD has released two new family members to the Ryzen line-up, the Ryzen 3 2200G and the Ryzen 5 2400G.  The latter being the fastest in CPU and GPU performance. Both CPU's are part of the new Raven Ridge generation, the successor to the previous Bristol Ridge cpu's. Raven Ridge is build on the Ryzen architecture and features all the same ingredients as the existing Ryzen 3 and 5, but now with an additional integrated GPU. The two desktop CPU's have a pricetag of € 99,00 and € 169,00 respectively. The full specifications are found below and compared to Intel's offerings.
Clearly, looking at graphic processing power the Ryzen 5 2400G with 3520 Floating Point 16 calculations spits out more than 5 times the power of an HD630 iGPU in the Core i5-8400. That is promising while maintaining a TDP of only 65W.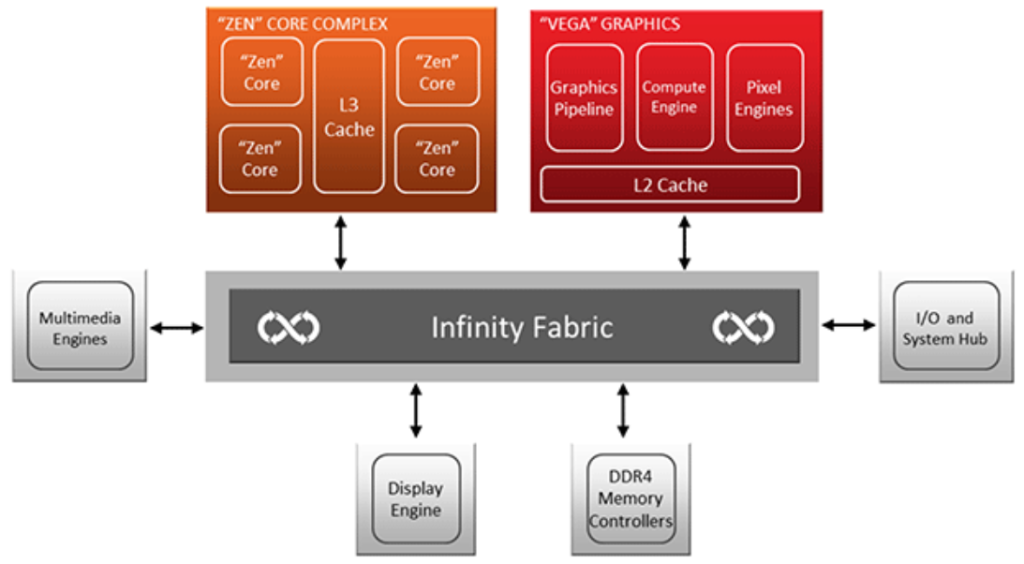 Despite being a Ryzen cpu with integrated graphics and the same dimensional footprint as Summit Ridge, Ryzen 3, 5 and 7, AMD had to free up space in favor of the VEGA iGPU. What have they done? Well first they sacrificed half of the PCI-E lanes which went from 16 to 8 lanes and split the L3 cache leaving 4mb for the CPU. Despite these actions the CPU performance is higher than AMD's counterparts the Ryzen 3 1200 and Ryzen 5 1400. The 2200G and 2400G run at higher clockspeeds and have lower latencies for the internal L1, L2 and L3 cache, thus making it faster resulting in the Cinebench R15 tests below. Running al four cores in the same CCX certainly helps!
That is all very nice indeed, but what about the iGPU? Can it play Crysis? Ah no please don't say that… Now serious, the iGPU is based on Vega, Yes, that Vega card you cannot buy and if you could, you would pay way to much! Bashing mode off…. The Ryzen 3 2200G and Ryzen 5 2400G are equiped with 8 and 11 compute units that translate to 512 and 704 graphic cores. The architecture of the Vega iGPU is the same you'll find in Vega 56 and Vega 64 but with one large difference the iGPU uses the system memory for it's tasks.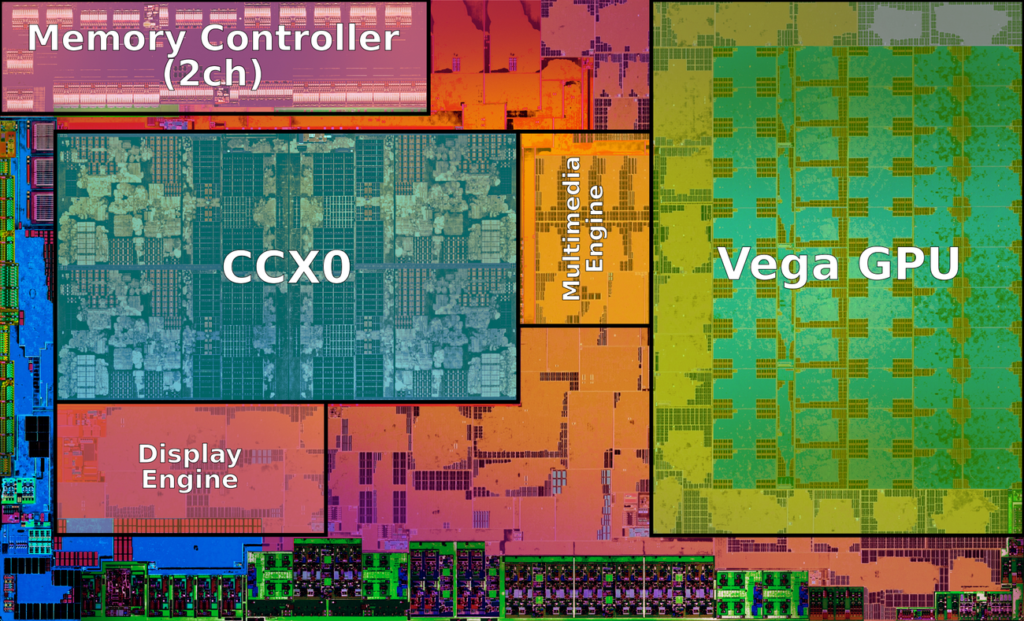 What does that mean for your gaming experience? Well first, fast memory is better for Ryzen and also for the iGPU! And that is immediately the negative part of a possible build. Fast DDR4 system memory is very expensive now in 2018. Talking Euro's it will set you back somewhere between € 200,00 and € 250,00 for a 2×8 dual channel 16GB kit. If you can live with a 8GB kit you will be a lucky man or woman for about € 120,00
We advise to use at least 2.400 mhz ram, CAS latency 16. A better but much more expensive choice would be 3.200 mhz @ C14. An example of such a memory kit is the G-Skill Flare X or Fortis kits (only available in Europe as a 16GB 2×8 kit) as they are developed to work with Ryzen flawlessly. As you may know Ryzen cpu's in general are picky on memory kits, especially the high rated speed ones with speeds of 2.933 mhz and up.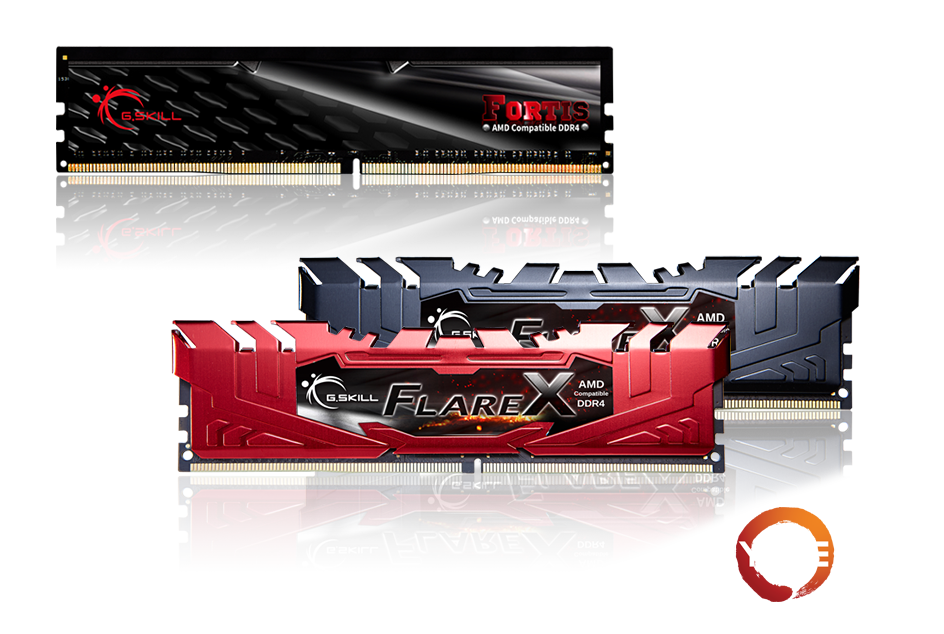 Before we discuss benchmarks it is important to know that if you have the intentions in building a setup with Ryzen Raven Ridge, you need a motherboard with display outputs. Sadly, the top of the line X370 is a no go because it never includes display outputs and only supports dedicated videocards. You will be better off using an AMD B350 chipset which is one more affordable and supports overclocking to a certain degree.
Overclocking certainly differs among boards, so do your homework if you want to squize everything out of your fresh new Ryzen Vega CPU. We have good experiences with our Gigabyte AB350M Gaming 3 that enabled us to overclock a Summit Ridge Ryzen 3 1200 to 4.0ghz with ease. We just saw there is a new bios update available from Gigabyte that gives support for the new 2200G and 2400G. Also manufacturers have started to revise their B350 board and mention this on the box with a nice silver sticker if you want to be 100% certain there are no compatibility issues. Would you purchase a board AMD even has an offering on hand at the moment to send an  AMD Ryzen rental cpu (boot kit) free of charge to update your bios before switching to the Ryzen 3 2200G or Ryzen 5 2400G. Wow, that is service. Read the link how it works exactly. If you have a Ryzen cpu, just update your bios to the latest one and replace your cpu after the update.
We started this blog asking if you could game at 1080P on one of both cpu's? The testbench used for the benchmarks below includes a Gigabyte AB350N Gaming wifi with 2x8GB G-Skill Flare X Ram running @ 3.200 mhz C14. We start with GTA 5.
What can we conclude from the GTA 5 benchmark? First, Intel's iGPU offerings found in the Cannon Lake series HD630 cannot compete with both VEGA iGPU 's. Secondly, wow 50 FPS on average on 1080P with high presets? Very impressive especially if minimum frame rates do not drop below 30 FPS. If you are a GTA 5 fan and on a budget these new Ryzen CPU's deliver the goods!
Rise of the tombraider is a taxing game on systems and based on a Direct X12 engine. Both AMD's 2200G and 2400G barely make it to 30 FPS on 720P and 20 FPS on 1080P. We call this unplayable but moving towards medium or even low settings will certainly improve the FPS and doesn't make TRTR look like a sandbox game in our opinion.
Ashes of the singularity is a massive game if you count the ammount of interactions on your screen. We have seen GTX 1080 TI's on their knees with this title on ultra presets. We are surprised to see these results. Guys, we are talking about an iGPU here, there is no videocard!
To sum things up. AMD has given PC gamers another option in a landscape characterized by extremely inflated prices and low availability of videocards. The only but is offcourse pricing of DDR4 memory but the availability is luckily there. AMD Ryzen 3 2200G and Ryzen 5 2400G gives the user an option to buy a relatively cheap system now for approximately € 550,00 and upgrade the videocard later. In the meantime gamers and multimedia enthousiast can put this CPU/iGPU in their systems to stream 4K movies, edit photos and play a game in 1080P if settings are kept in reason. Highly recommended.