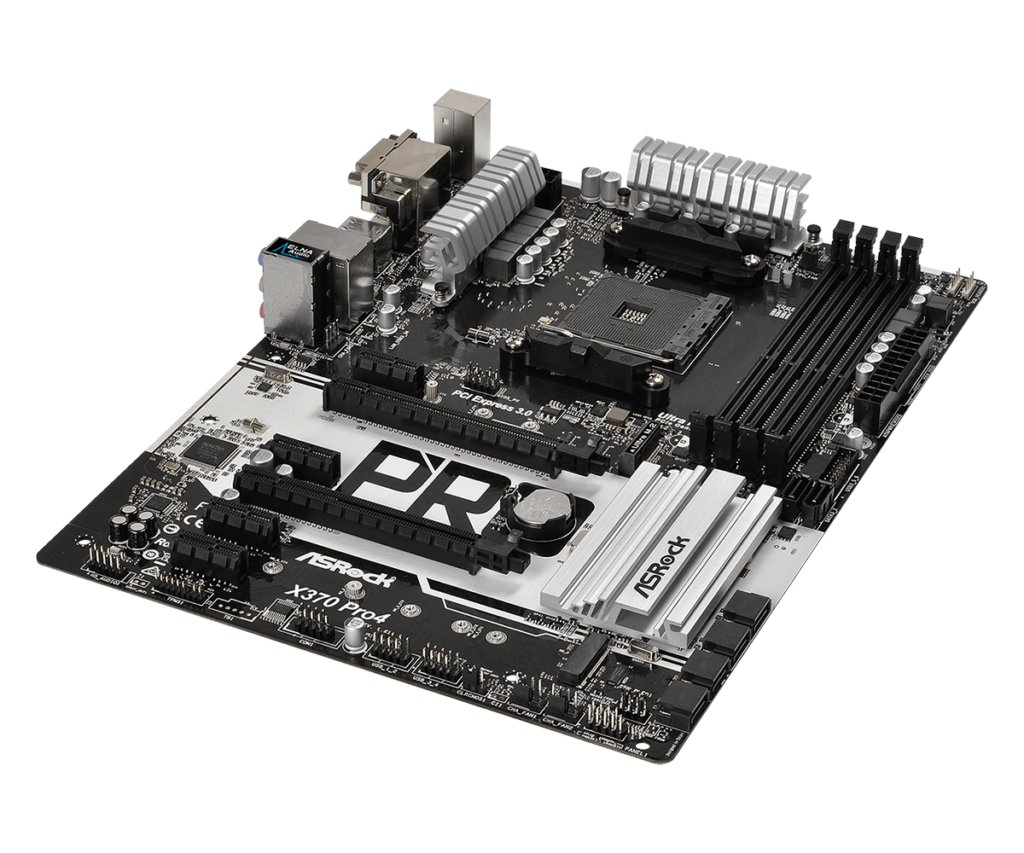 Tweaktown released an indept review regarding the Asrock X370 Pro 4 motherboard. The Asrock X370 Pro 4 is specifically designed for AMD's Raven Ridge APU's, including the Ryzen 5 2400G and Ryzen 3 2200G. Both cpu's feature integrated GPU's in the form of Vega 8 and Vega 11. Turning the motherboard on its side reveals the i/o panel giving you three display outputs, DVI, VGA and HDMI but no displayport.
We learned that Raven Ridge cpu's only support up to 8x PCI-E, so why on earth has Asrock decided to develop a luxury X370 motherboard,  crippled by the cpu in the first place?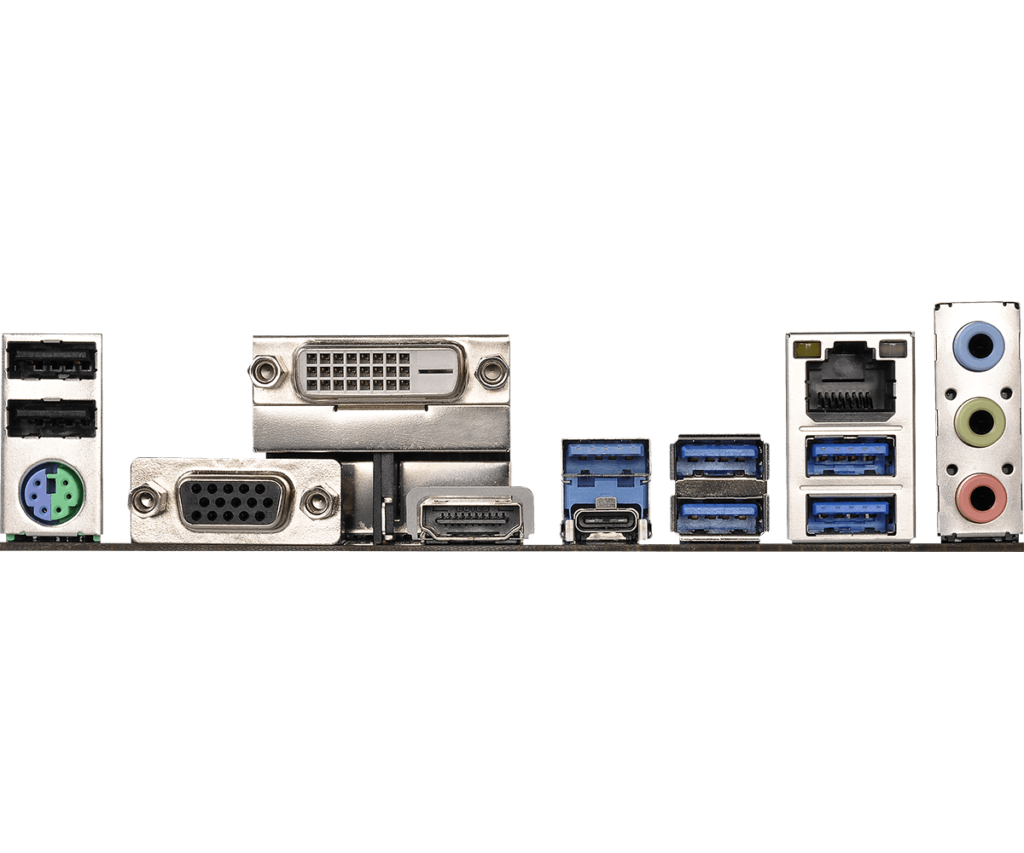 First, the Asrock X370 Pro 4 also provides support for Ryzen 3, 5 and Ryzen 7 cpu's.  Secondly, the VRM of this specific board is relatively robust compared to other lower end B350 AM4 motherboards, offering a 6+3 phase power delivery. Furthermore, we find two M.2. slots (one only SATA-600) and two RGB fan headers. In the audio department we find an ALC892 chip which is okay, but not more than that.
For only € 105,00 you will get your hands on a motherboard that accepts every Am4 cpu on the market today. Blessed with a good VRM and all the basic features you need, except for USB 3.1 gen 2. and onboard RGB. Combining the Asrock X370 Pro 4 with for example a Ryzen 5 2400G, provides an exceptionally long upgrade path. In the end you could be rocking a  Ryzen 7 2700X with Crossfire Vega 64's without ever having to change the motherboard. Just think about that 🙂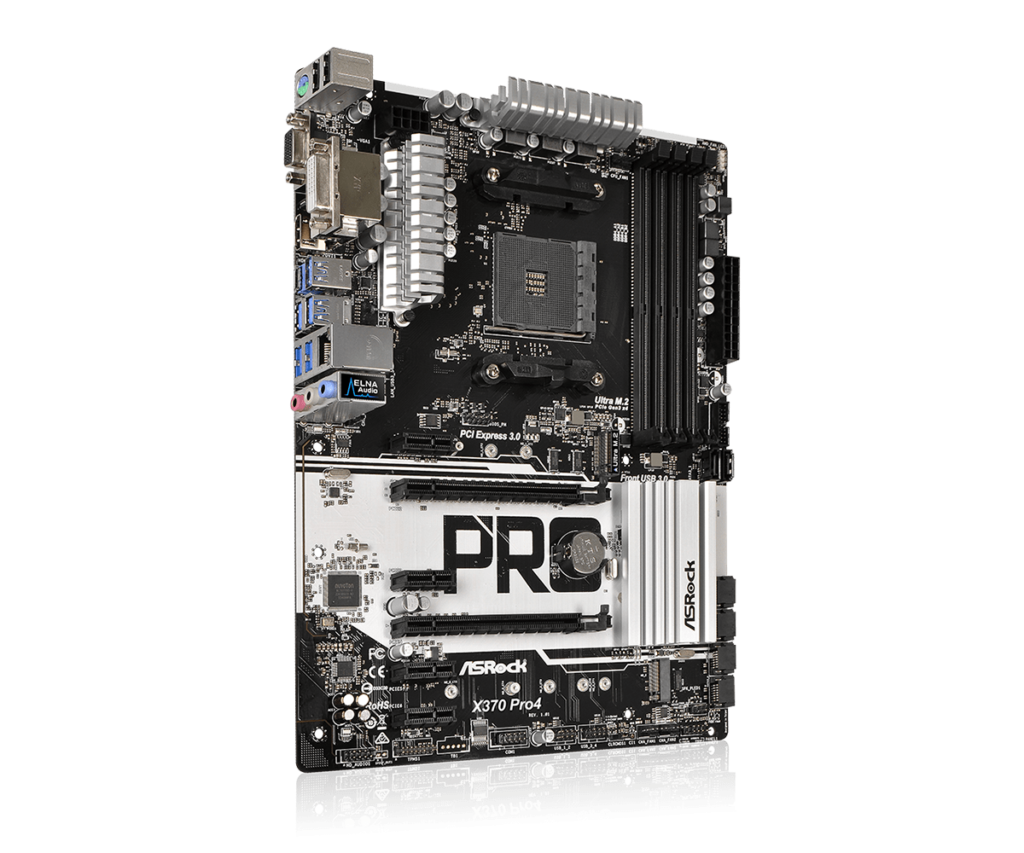 Unique Feature

ASRock Super Alloy
– Premium Power Choke
– Sapphire Black PCB
– High Density Glass Fabric PCB
– 2oz Copper PCB
ASRock Ultra M.2 (PCIe Gen3 x4)
ASRock Full Spike Protection (for all USB, Audio, LAN Ports)
ASRock Live Update & APP Shop

CPU

– Supports AMD Socket AM4 A-Series APUs (Bristol Ridge) and Ryzen Series CPUs (Summit Ridge and Raven Ridge)
– Digi Power design
– 9 Power Phase design
– Supports 95W Air Cooling

Chipset

– AMD Promontory X370

Memory

– Dual Channel DDR4 Memory Technology

– 4 x DDR4 DIMM Slots

– AMD Ryzen series CPUs (Summit Ridge) support DDR4 3200+(OC) / 2933(OC) / 2667/2400/2133 ECC & non-ECC, un-buffered memory*

– AMD Ryzen series CPUs (Raven Ridge) support DDR4 3200+(OC)/2933(OC)/2667/2400/2133 non-ECC, un-buffered memory*

– AMD 7

th

 Gen A-Series APUs support DDR4 2400/2133 ECC & non-ECC, un-buffered memory*

– Max. capacity of system memory: 64GB**

– 15μ Gold Contact in DIMM Slots

*Please refer to Memory Support List on ASRock's website for more information.

Please refer to below table for DDR4 UDIMM maximum frequency support.

A-Series APUs:

UDIMM Memory Slot
Frequency(MHZ)
A1
A2
B1
B2
–
SR
–
–
2400
–
DR
–
–
2400
–
SR
–
SR
2400
–
DR
–
DR
2133
SR
SR
SR
SR
1866
SR/DR
DR
SR/DR
DR
1866

Ryzen Series CPUs:

UDIMM Memory Slot
Frequency(MHZ)
A1
A2
B1
B2
–
SR
–
–
2667
–
DR
–
–
2667
–
SR
–
SR
2667
–
DR
–
DR
2400-2667
SR
SR
SR
SR
2133-2400
SR/DR
DR
SR/DR
DR
1866-2133

SR: Single rank DIMM, 1Rx4 or 1Rx8 on DIMM module label
DR: Dual rank DIMM, 2Rx4 or 2Rx8 on DIMM module label

**Due to the operating system limitation, the actual memory size may be less than 4GB for the reservation for system usage under Windows® 32-bit OS. For Windows® 64-bit OS with 64-bit CPU, there is no such limitation.

BIOS

– 128Mb AMI UEFI Legal BIOS with multilingual GUI support
– Supports "Plug and Play"
– ACPI 5.1 compliance wake up events
– Supports jumperfree
– SMBIOS 2.3 support
– DRAM Voltage multi-adjustment

Graphics

– Integrated AMD Radeon™ Vega Series Graphics in Ryzen Series APU*

– Integrated AMD Radeon™ R-Series Graphics in A-series APU*

– DirectX 12, Pixel Shader 5.0

– Max. shared memory 2GB

– Three graphics output options: D-Sub, DVI-D and HDMI

– Supports Triple Monitor

– Supports HDMI with max. resolution up to 4K x 2K (4096×2160) @ 24Hz / (3840×2160) @ 30Hz

– Supports DVI-D with max. resolution up to 1920×1200 @ 60Hz

– Supports D-Sub with max. resolution up to 1920×1200 @ 60Hz

– Supports Auto Lip Sync, Deep Color (12bpc), xvYCC and HBR (High Bit Rate Audio) with HDMI Port (Compliant HDMI monitor is required)

– Supports HDCP with DVI-D and HDMI Ports

– Supports Full HD 1080p Blu-ray (BD) playback with DVI-D and HDMI Ports

*Actual support may vary by CPU

Audio

– 7.1 CH HD Audio with Content Protection (Realtek ALC892 Audio Codec)*

– Premium Blu-ray Audio support

– Supports Surge Protection

– ELNA Audio Caps

*To configure 7.1 CH HD Audio, it is required to use an HD front panel audio module and enable the multi-channel audio feature through the audio driver.

LAN

– PCIE x1 Gigabit LAN 10/100/1000 Mb/s
– Realtek RTL8111GR
– Supports Wake-On-LAN
– Supports Lightning/ESD Protection
– Supports LAN Cable Detection
– Supports Energy Efficient Ethernet 802.3az
– Supports PXE

Slots

AMD Ryzen series CPUs

– 2 x PCI Express 3.0 x16 Slots (single at x16 (PCIE2); dual at x16 (PCIE2) / x4 (PCIE4))*

AMD 7th A-Series APUs/ Raven Ridge CPUs

– 2 x PCI Express 3.0 x16 Slots (single at x8 (PCIE2); dual at x8 (PCIE2) / x2 (PCIE4))*

– 4 x PCI Express 2.0 x1 Slots

– Supports AMD Quad CrossFireX™ and CrossFireX™**

*Supports NVMe SSD as boot disks

If M2_1 is occupied, PCIE4 will be disabled.

**This feature is only supported with Ryzen Series CPUs (Summit Ridge and Raven Ridge).

Storage

– 4 x SATA3 6.0 Gb/s Connectors, support RAID (RAID 0, RAID 1 and RAID 10), NCQ, AHCI and Hot Plug*

– 2 x SATA3 6.0 Gb/s Connectors by ASMedia ASM1061, support NCQ, AHCI and Hot Plug

– 1 x Ultra M.2 Socket (M2_1), supports M Key type 2242/2260/2280 M.2 PCI Express module up to Gen3 x4 (32 Gb/s) (with Ryzen Series CPU) or Gen3 x2 (16 Gb/s) (with A-Series APU)**

– 1 x M.2 Socket (M2_2), supports M Key type 2230/2242/2260/2280/22110 M.2 SATA3 6.0 Gb/s module

*M2_2 and SATA3_3 share lanes. If either one of them is in use, the other one will be disabled.

**If M2_1 is occupied, PCIE4 will be disabled.
Supports NVMe SSD as boot disks
Supports ASRock U.2 Kit

Connector

– 1 x COM Port Header

– 1 x TPM Header

– 1 x Power LED and Speaker Header

– 1 x RGB LED Header*

– 1 x AMD Fan LED Header**

– 1 x CPU Fan Connector (4-pin)***

– 3 x Chassis Fan Connectors (4-pin) (Smart Fan Speed Control)****

– 1 x 24 pin ATX Power Connector

– 1 x 8 pin 12V Power Connector

– 1 x Front Panel Audio Connector

– 2 x USB 2.0 Headers (Support 4 USB 2.0 ports) (Supports ESD Protection)

– 1 x USB 3.1 Gen1 Header (Supports 2 USB 3.1 Gen1 ports) (Supports ESD Protection)

*Supports in total up to 12V/3A, 36W LED Strip

**The AMD Fan LED Header supports LED strips of maximum load of 3A (36W) and length up to 2.5M.

***The CPU Fan Connector supports the CPU fan of maximum 1A (12W) fan power.

****CHA_FAN2 and CHA_FAN3 can auto detect if 3-pin or 4-pin fan is in use.

Rear Panel I/O

– 1 x PS/2 Mouse/Keyboard Port
– 1 x D-Sub Port
– 1 x DVI-D Port
– 1 x HDMI Port
– 2 x USB 2.0 Ports (Supports ESD Protection)
– 1 x USB 3.1 Gen1 Type-C Port (Supports ESD Protection)
– 5 x USB 3.1 Gen1 Ports (Supports ESD Protection)
– 1 x RJ-45 LAN Port with LED (ACT/LINK LED and SPEED LED)
– HD Audio Jacks: Line in / Front Speaker / Microphone

Software and UEFI

Software

– ASRock A-Tuning

– ASRock RGB LED

– ASRock XFast LAN

UEFI

– ASRock Full HD UEFI

– ASRock Instant Flash

– ASRock Internet Flash

– ASRock Easy RAID Installer

*These utilities can be downloaded from ASRock Live Update & APP Shop.

Support CD

– Drivers, Utilities, AntiVirus Software (Trial Version), Google Chrome Browser and Toolbar

Accessories

– Quick Installation Guide, Support CD, I/O Shield
– 2 x SATA Data Cables
– 2 x Screws for M.2 Sockets

Hardware Monitor

– CPU/Chassis temperature sensing
– CPU/Chassis Fan Tachometer
– CPU/Chassis Quiet Fan
– CPU/Chassis Fan multi-speed control
– Voltage monitoring: +12V, +5V, +3.3V, Vcore

Form Factor

– ATX Form Factor: 12.0-in x 8.8-in, 30.5 cm x 22.4 cm
– Solid Capacitor design

OS

– Microsoft® Windows® 10 64-bit

Certifications

– FCC, CE
– ErP/EuP ready (ErP/EuP ready power supply is required)