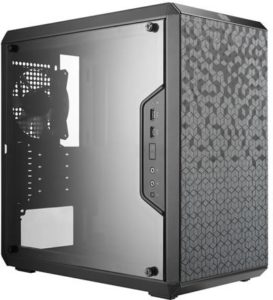 Cooler Master introduced its HAF series (HAF500P) and Cosmos line up last year costing respectively well over € 130,00 for the H500P, and you'll have to search well to get a new Cosmos below € 300,00. For those who refuse or don't have the money to burn on these flagships cases, Cooler Master has their Mastercase Lite series and since a few weeks a new addition, the Masterbox Q300L. The Q300L is nice square shaped modular case with a window for not a lot of money. What are the first impressions?
As many things in life nothing comes cheap but at € 38,00 Euro's in the Netherlands at the time of writing this article, there is nothing to complain about. But what do you get for € 38,00 Euro's? A flexible not thought out case? Well, wait untill you hear the specs and then you can judge for yourself.
The dimensions for the Cooler Master Master Q300L are 387 x 230 x 378 mm and can house Mini-ATX and M-ITX motherboards. But then again, most budget (game)builds feature Mini-ATX motherboards in the form of AMD's B350 Ryzen or Intel B250 solutions. None the less, the Q300L is not small, it is rather large! Cooler Master could have fitted an ATX motherboard the room is obviously there, but now you have enough room to accomodate a thick AIO radiator at the front with a push pull config and a maximum of 240mm in length. Custom loops with monster radiators at the front are also possible, but we do not think anyone would put a € 300,00 EKWB loop in a € 38,00 case…. :).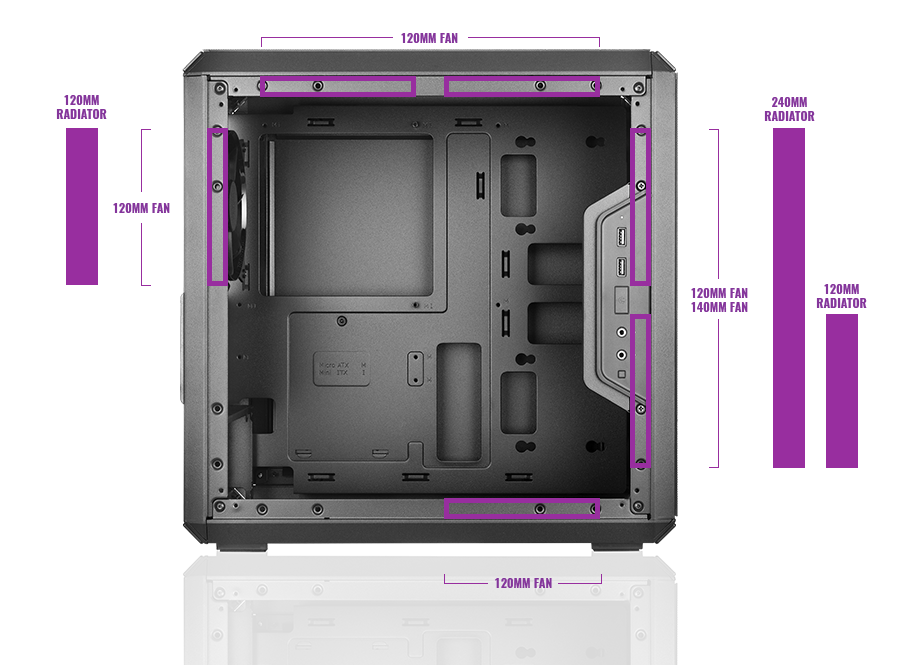 Talking about cooling, there are a lot of fan options. If we look at the case with the magnetic dust filters removed it is obvious that cooling will not be a problem in the Q300L. The whole front, top and bottom of the case are punctured with holes, allowing air to flow through. Cooler Master has placed one 120mm fan in the back, leaving three 120mm positions and two 140mm fans in the front open for fans of your liking.
The Cooler Master Master Q300L has a square plexiglas window that is held into place by thumbscrews and can be rotated in any direction to place I/O panel in the desired position. The I/O panel has the basic power and reset button as well as two USB 3.0 connectors. Last but not least a microphone and audio jack are present to connect your headset. Be very carefull with the plexi glass window as it scratches easily so put it away in the box as you are building your system. I still regret scratching my Cooler Master Masterbox Lite 5 which uses the same plexi glass side panel…. So be warned!!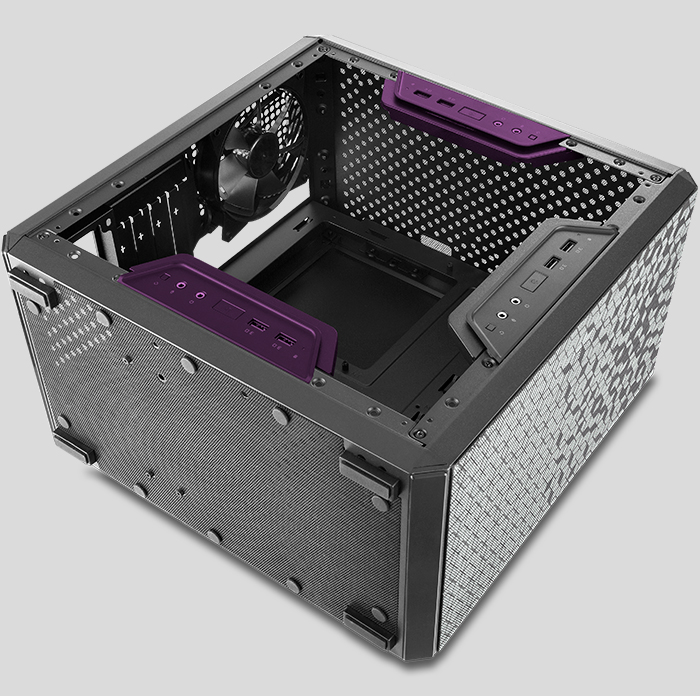 The nice thing about the Coolermaster Q300L is that it is a budget case that can contain high end hardware regarding videocards. Videocards with lengths up to 360mm are supported. And after a while when you think your Q300L looks dated you can transform it to a Q300P! Yes indeed folks an upgrade path to the luxury version of the Q300. Click this link to see how that works. The final result is the case below the Cooler Master Mastercase Q300P which is a € 80,00 case. How much this separate upgrade pack will set you back we don't know yet.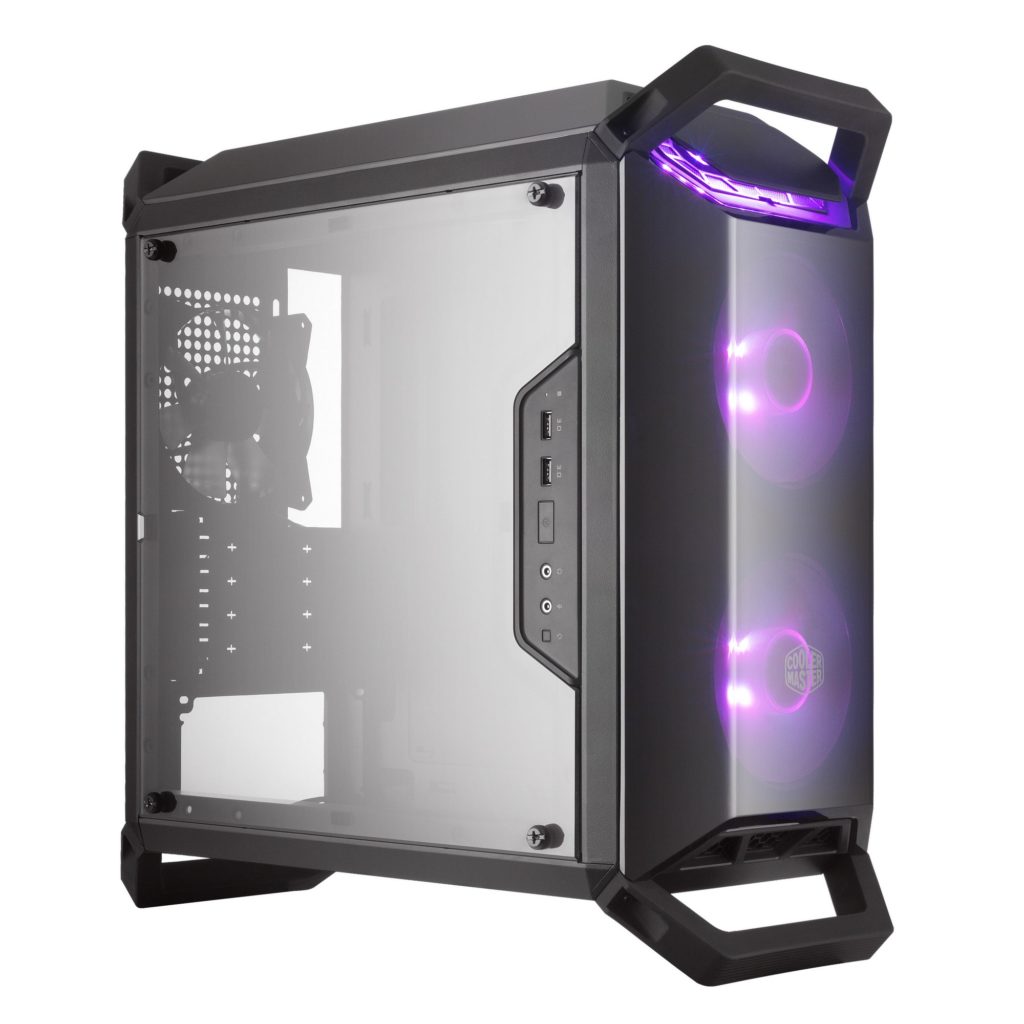 Any negatives then on the Q300L? Yes offcourse. Being a sub € 40,00 case Cooler Master saved on rubber grommets for the cable management. We also miss a PSU basement which is included in the Cooler Master Masterbox Lite 5  . Not to forget that it is € 10,00 more expensive and does not improve on cooling. As we cannot judge the room for cable management behind the motherboard tray, it looks to be alright. The last problem with the Q300L is the pricing if you want to upgrade to the Q300P. If you are able to afford an € 80,00 case now there are better options with other manufacturers as they offer better cable management, tempered glass etc etc. The Q300L as it is, looks to be a fantastic case at it's price point.
We looking forward building a budget system in the case in the near future.