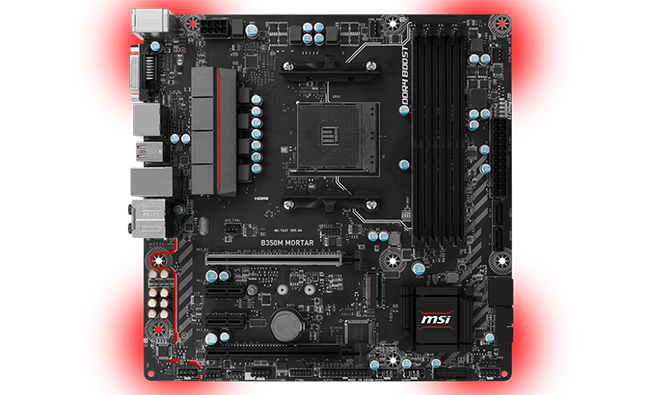 Hexus.net has recently tested the  MSI B350M Mortar. A M-ATX board specifically designed for a mid range gaming system at a price tag roughly around the € 80,00 mark. It features an RGB lighting connector for MSI Mystic light and includes a rich i/o panel with DVI, Displayport and HDMI outputs, USB 3.1 Type A ,Type C and an ALC892 sound chip. the red lighting on the back of the board and along side the audio chip cannot change color, other then display traditional effects as glowing or pulsating the RED leds.

What we find often disturbing is the lack of PWM fan connectors on mid range motherboards. With the MSI Mortar none of that. You will be treated with four of them which can be controlled separately in the bios to give your system fans a custom fan curve.
Out of the box the MSI B350M Tomahawk and its sibling the white MSI B350M Arctic, support 2nd GEN. Ryzen (Raven Ridge) out of the box. For these new cpu's check our previous blog on the Ryzen 3 2200G and Ryzen 5 2400G.
When it comes to overclocking a fresh Ryzen 5 2400G, the MSI B350M Mortar is certainly a good candidate. Pushing the Ryzen 5 2400G to 4.0GHZ and the GPU to 1.500 mhz scoring 3510 Points (@2933mhz DDR4) in 3D Mark Firestrike.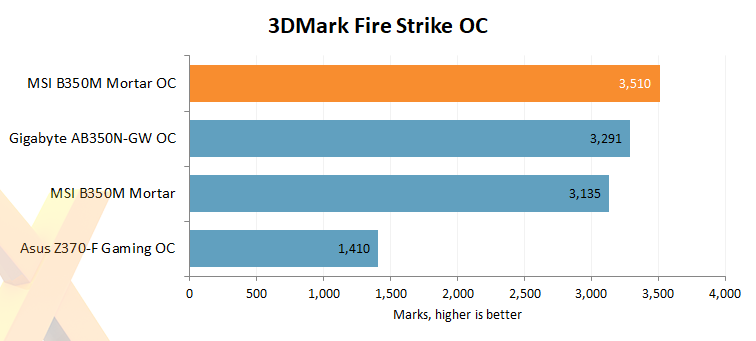 Let's start with the negatives. The MSI B350M Mortar is an M-ATX board priced a tad higher than its direct competitors. When overclocking is in our opinion a strong point, it must be said that not providing proper cooling for the VRM's located above the cpu, makes us wonder how that affects the lifespan of these chips. Especially at higher voltages than stock 24/7. Last but not least… In a competitive landscape with RGB goodness becoming some what of a prerequisite nowadays a lack thereoff is a chance missed.
Luckily the positives outrule the negatives as we have four dimm slots, four fan headers and also a displayport for your 4K footages. Overclocking is supported and works pretty damn well, scoring above Gigabyte's offering, the B350M Mortar certainly is a good candidate for your Raven Ridge Build. For the full review please visit Hexus.net via the link below.
Source: Hexus.net