Introduction and specifications of the 3970X, 3960X and i9-10980XE
Yesterday AMD released their long awaited HEDT cpu's AMD Ryzen Threadripper 3960X and Threadripper 3970X. It might not go unnoticed that these new Threadrippers again feature a lot of cores. The Ryzen Threadripper 3960X features 24 cores and the Threadripper 3970X has 32 cores. Offcourse there is SMT (Simultaneous Multithreading) meaning you get 48 and 64 threads to your disposal. From a hardware enthousiast perspective it always good to have a lot of cpu cores, actually there is no such thing as to many cores to attack those Cinebench renders but do you actually need 24 or 32 cores for gaming and content creation?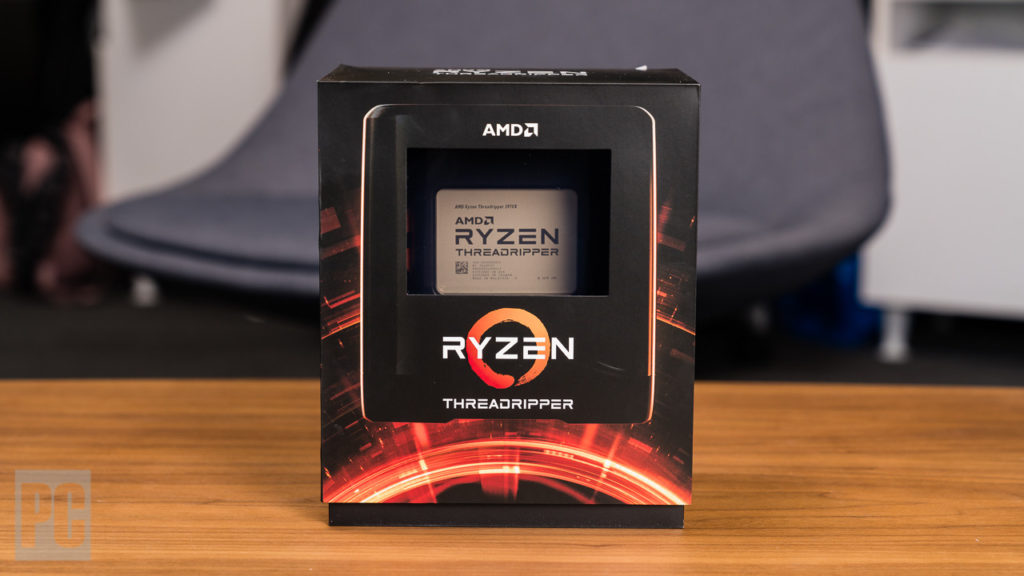 We intentionally waited a day to get our head around the facts presented to us yesterday, because on the same day Intel released the Intel Cascade Lake-X Core i9-10980XE 18-core and AMD already has a Ryzen 9 3950X (16-core) on the mainstream platform all competing against eachother. More choice is good but decision making can be harder for us consumers. So which cpu is best for which purpose and should it be AMD Ryzen or Intel? We try to answer this question here today. Let first take a look at the specifications of the Ryzen Threadripper 3960X and Threadripper 3970X vs Intel's Core i9-10980XE.
AMD Threadripper 3970X
AMD Threadripper 3960X
AMD Threadripper 2990WX
AMD Threadripper 2970WX
Ryzen 9 3950X
Intel Core i9-10980XE
Cores/threads
32c/64t
24c/48t
32c/64t
24c/48t
16c/32t
18c/36t
Clockspeed
3,7GHz
3,8GHz
3,0GHz
3,0GHz
3,5GHz
3,0GHz
Turbo
4,5GHz
4,5GHz
4,2GHz
4,2GHz
4,7GHz
4,8GHz
L2-/L3-cache
16MB/128MB
12MB/128MB
16MB/64MB
12MB/64MB
8MB/64MB
18MB/24,75MB
Memory support
Quad-ddr4-3200
Quad-ddr4-3200
Quad-ddr4-2933
Quad-ddr4-2933
Dual-ddr4-3200
Quad-ddr4-2933
Pci-e-lanes*
64 + 24 gen4
64 + 24 gen4
48 + 24 gen3
48 + 24 gen3
24 + 20 gen4
48 + 2
gen3
Manufacturing Process
7nm (12nm i/o-die)
7nm (12nm i/o-die)
12nm
12nm
7nm (12nm i/o-die)
14nm
TDP
280W
280W
250W
250W
105W
165W
MSRP
$1999
$1399
$1799
$1299
$749
$979
The table above clearly shows the underlying differences. Not only does AMD have a manufacturing process advantage compared to Intel, 7nm vs a refined 14nm+++, 32 vs 18 cores respectively and 64 vs 48 PCI-E lanes but also the advantage of a new generation of motherboards featuring PCI-E 4.0 connectivity. This time in favor of Intel, AMD would like to sell their Threadripper 3970X cpu for twice the ammount of $ compared to the Intel Core i9-10980XE. On top of that it requires you to invest in a relatively expensive PCI-E 4.0 TRX40 motherboard while Intel let's you use existing Intel X299 motherboards. This makes the comparison AMD vs Intel in the HEDT market even more interesting at this moment in time.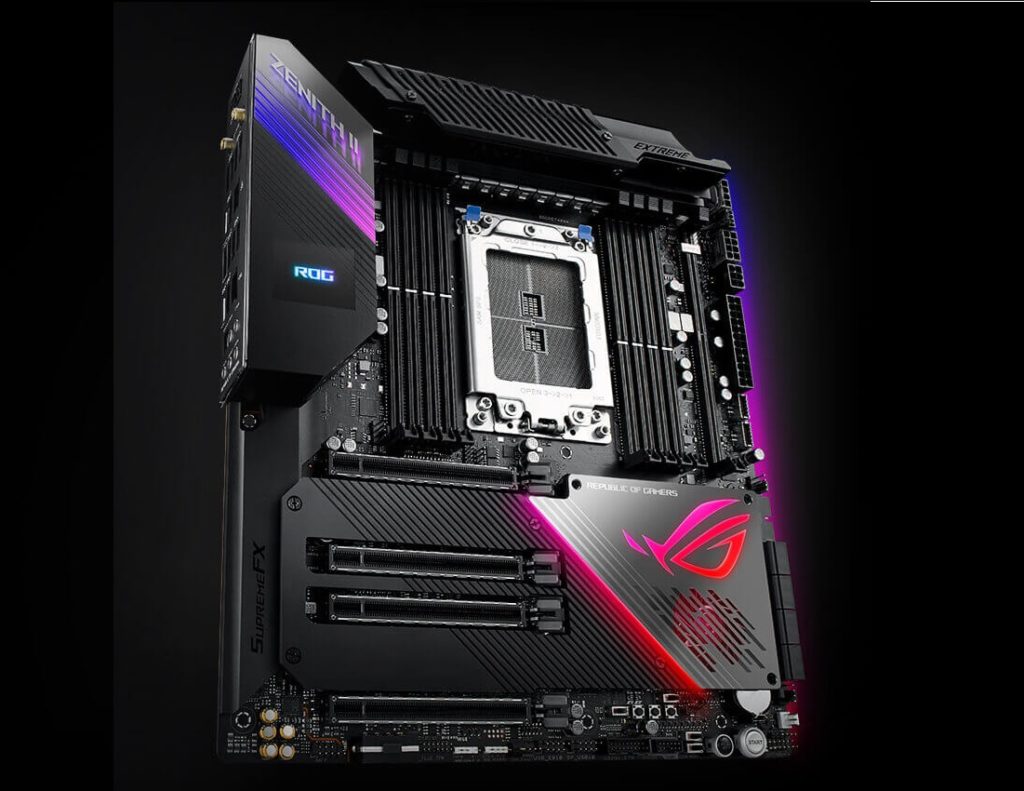 Comparing the HEDT line-up in November 2019, Intel vs AMD
Time for some comparisons! But before we do that we would like to make you aware of the fact that the benchmarks we present you today are based on the drivers that exist at the moment of testing which is November 2019. What we have seen and learned from the past, especially with Ryzen, is that AMD's tends to release bios versions that bring a lot of optimizations that have proven to significantly improve the performance of your system. For what we have seen AMD has done a better job with the TRX40 motherboards biosses compared to the launch of AMD X570 for the AM4 platform. Enough rambling about boring facts, here are the significant benchmarks of a few games, IPC performance and productivity/content creation. After that we will draw a conclusion with performance vs total investment in a platform of choice.
Benchmarks AMD Ryzen Threadripper 3960X, 3970X vs Core i9-10980XE
Gaming Benchmarks
When deciding for a HEDT platform traditionally you would either be a tech enthousiast or you would need the computational horsepower for rendering video's or mathematical calculations. We talked about it often but meanwhile newer games are more and more optimized to use threads in favor of corecount and if possible high frequency. The benchmarks below are tested using 3600Mhz DDR4 for Ryzen and 3200Mhz for Intel.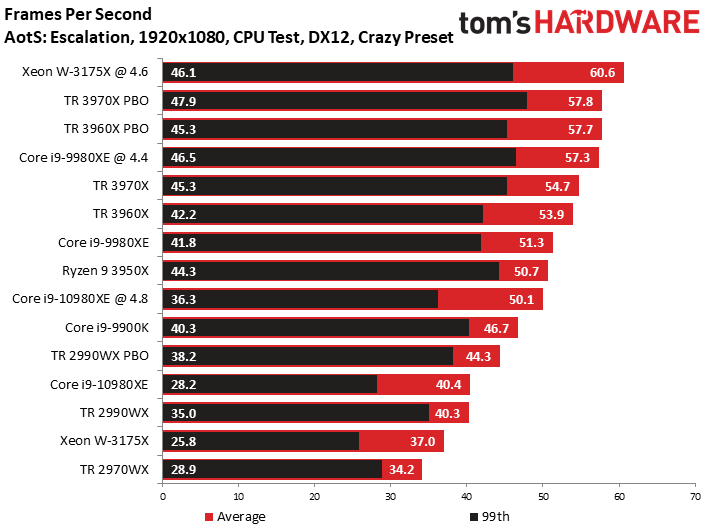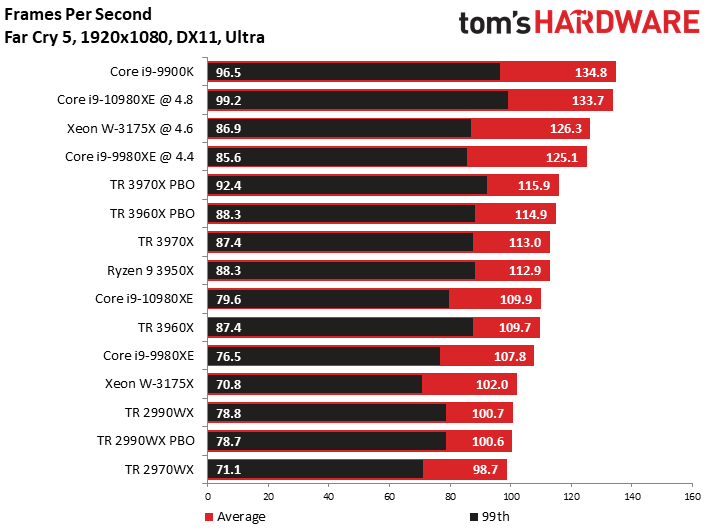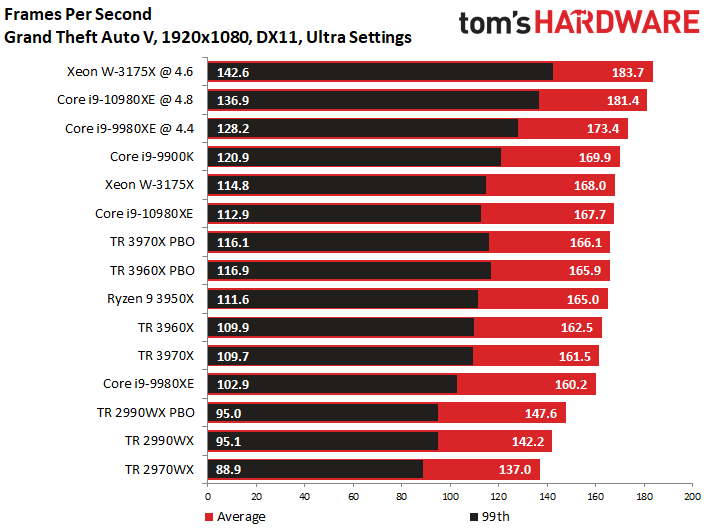 We intentionally started with the gaming benchmarks. We know the Hardware community, reviewers and consumers hated on Intel for their marketing mistakes and especially their purposely slow generational cpu innovations over time. AMD saw this chance and developed a scalable architecture that turned around everything. Yes, we also disaprove what Intel did, but maybe they will learn over time. Despite these facts gaming wise Intel is still the way to go on the HEDT platform if you are all about pure FPS numbers except for AOTS that loves more cores. Keep in mind that a Core i9-10980XE @ 4.8Ghz sips a 'little' more juice than a Threadripper 3970X. We refer to our Intel Core i9-10980XE blog of yesterday. One remark here. The Intel Core i9-9900K was clocked stock. Would it have been clocked to 5.0Ghz it would have been on par or faster than the Core i9-10980XE and rediculously expensive Intel Xeon W-3175X. That said, there is little to no difference between both Threadrippers 3960X and 3970X in gaming performance.
Content Creation Benchmarks
Below you find the Content Creation and Synthetic benchmarks showing the raw power of the Ryzen and Intel CPU's.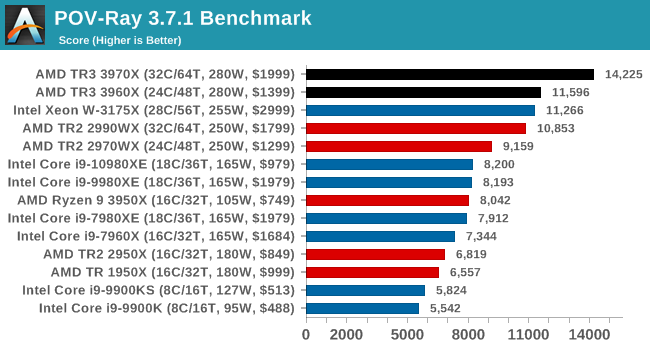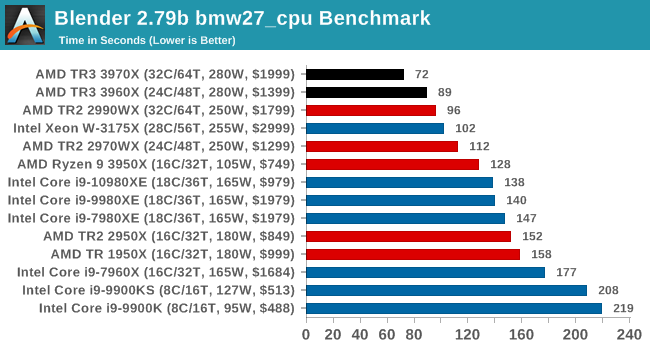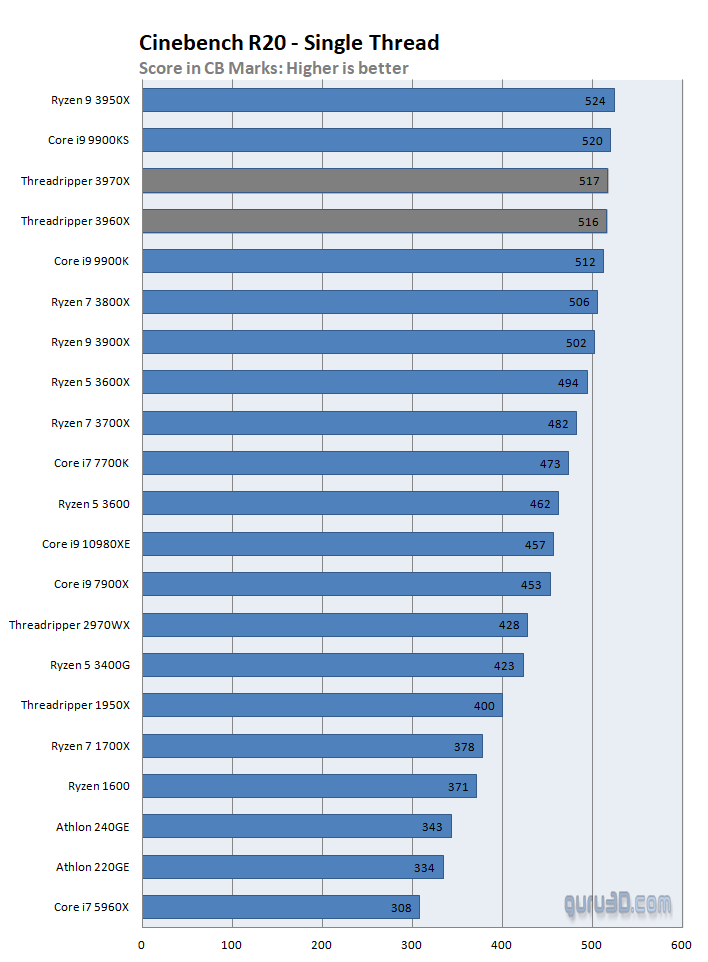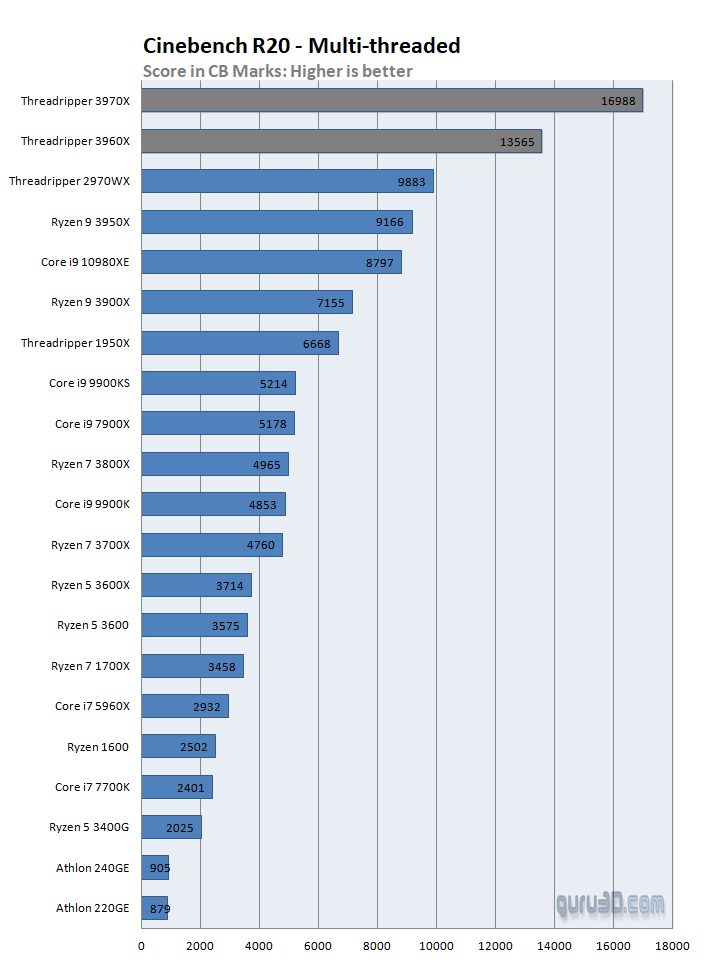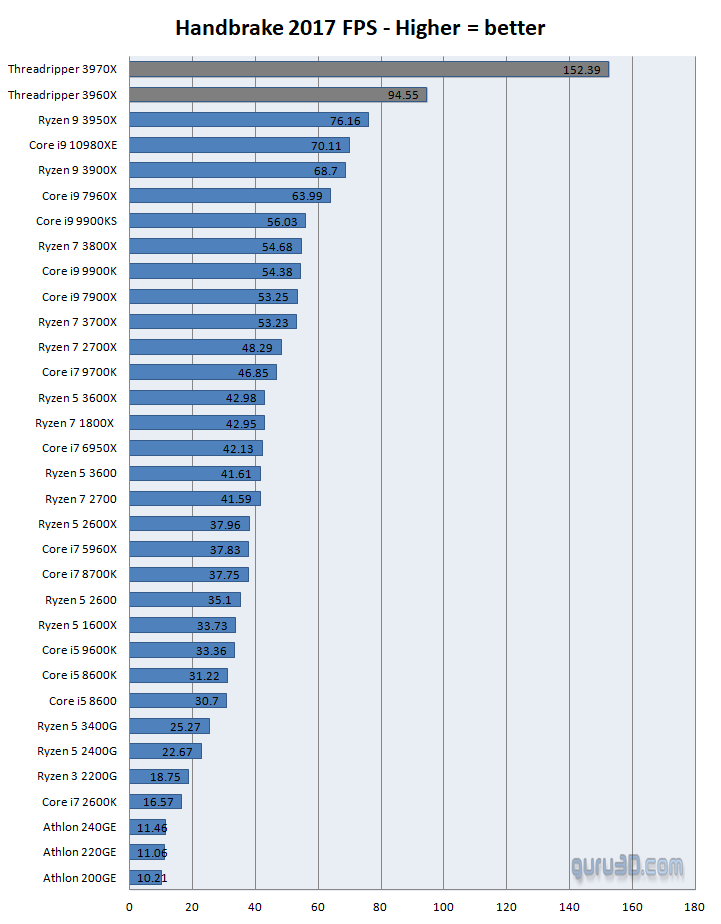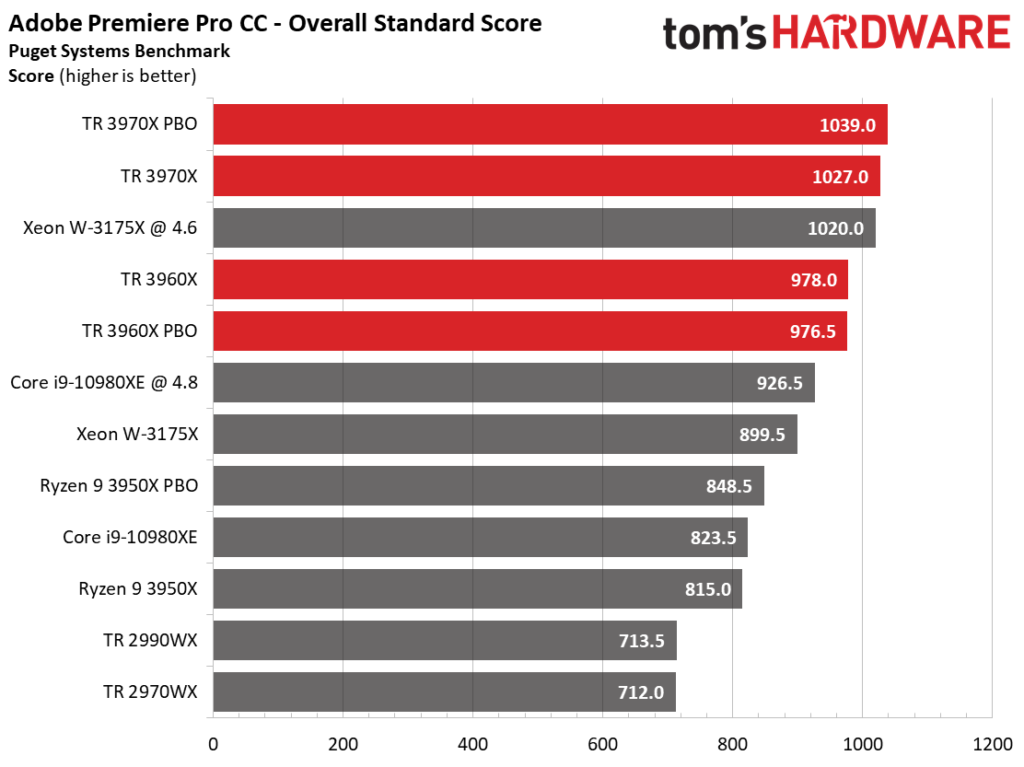 Clearly AMD's Threadrippers rip the threads in these Content Creation Benchmarks. The top of the graphs is dominated by both 3000 series Threadrippers followed by the Ryzen 9 3950X and then the Intel Core i9-10980XE. Also the Cinebench R20 results speak for themselves. compared to the previous generation Threadripper (TR 2970WX and TR2990WX) Single Threaded performance is improved approximately 20% on the new 3000 series making it clear that AMD has made a lot of progress in finetuning Ryzen the last two years.
Finally we can conclude that AMD surpassed Intel in the consumer desktop HEDT market, especially if we look at Content Creation. AMD finetuned their new 7nm architecture with Ryzen 3000 including the implementation of PCI-E 4.0 and did the same with Ryzen Threadripper 3000. They kept their promise of last year to substantially increase IPC and they did with approximately 10-15%. With the launch of the Ryzen Threadripper 3970X AMD degrades the Core i9-10980XE to the middle ground where it was the STAR C.G. cpu in 2018. The Core i9-10980XE is only able to stay 10% behind both Threadrippers if the Core i9-10980XE is overclocked to 4.8Ghz, but at the same time making it draw a rediculous ammount of power. A completely stock clocked Core i9-10980XE is nowhere to be seen once both Threadrippers are ripping :). Finally the benchmarks also show the tremendous value of the Ryzen 9 3950X AM4 cpu (@ $ 749,00) also beating the Core i9-10980XE numerous times. Is HEDT competing with the consumer platform?
Intel has to step up their game and follow AMD this time around. Clearly the 14nm process is in desperate need of an upgrade. So, if you are a content creator and you could do let's say 20% more work in the same ammount of time the Threadrippers could prove very usefull and are maybe worth every penny. If you still like Intel more after seeing all these benchmarks, because let's face it not everybody likes a VW! Don't think for a second you buy a bad product if you chose the i9. Despite being build on an older architecture, the Intel Core i9-10980XE is half the price of the Threadripper 3970X, has better gaming performance (once overclocked) and is still fast enough to do all your Content Creation work. As always it depends on your situation.
For us at Techjunkies.nl we don't need a 32-core monster because all we do is game testing and writing blogs about new Hardware and gadgets. In the case of for example Jayztwocents, Linus, Pauls Hardware and other Professional youtubers the situation is different. They save a lot of time getting their raw footage ready for Youtube because de/encoding times are reduced significantly with the new Threadrippers. We included a few relevant youtube video's for you below from Linus, HardwareCanucks and Gamersnexus.