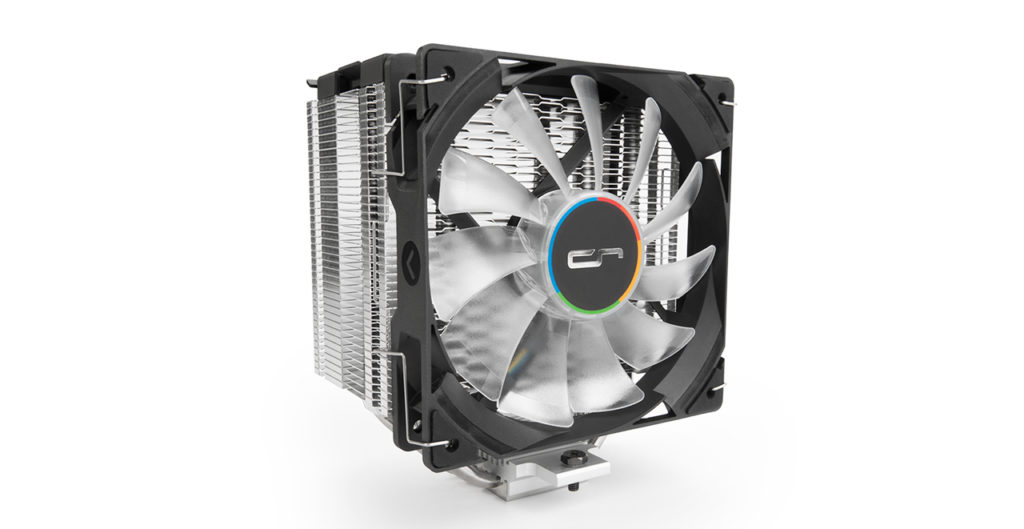 The RGB trend dominates the PC Hardware market since the last 2 years working it's way in every direction. Motherboards, cases, memory, AIO's and even SSD's have RGB flavoured editions. Despite the fact that RGB looks great once connected, using an RGB Gigabyte motherboard with an RGB Asus videocard requires you to install both software packages to control and synchronize lighting effects.
Besides software requirements you have hardware requirements enabling a physical connection between your RGB lighting and software. Most often do we see 4 or 5 pin RGB motherboard connections but also dedicated controllers as for example NZXT's Hue+ and others use the internal USB connector. Thus, the chances are great your blinged out RGB build consisting of different kinds of hardware cannot be controlled through one piece of software. Very annoying but manufacturers still like to lock you in, using only their RGB solution. This kinda s*cks.
Hardwarecanucks recently did a great video regarding this RGB incompatibility. Check it out below.

In the CPU cooler market there is one specific air cooler that uses the universal USB header to control its RGB features, the Cryorig H7 Quad Lumi. Internal USB headers are available on motherboards since i can remember and will probably work on pc's of the last ten years. Then there is the software side of things. Cryorig uses CAM software owned by NZXT. NZXT CAM offers control for RGB and is 100% HUE+ compatible. Besides controlling your RGB it displays information about the rest of your system resources, very handy.
the first time we heard of The Cryorig H7 Quad Lumi was June 2017. It took more than half a year to get it from there onto the shelves costing € 65,00 @ the least expensive e-tailer. Having a € 30,00 price premium over the regular non-RGB Cryorig H7 the RGB features and the extra heatpipe should deliver the goods! The video below is Cryorigs presentation of the RGB flavors you can expect from the CQL. To be honest we are impressed with the nice underglow RGB the Quad Lumi offers. It almost makes RGB motherboard lighting redundant.
Cryorig took the opportunity to make an already good performing H7 even better. The Quad Lumi with fan measures L98 mm x W123 mm x H145 mm and has a TDP of 160W. On the bottom we find four 6mm copper heatpipes attached to an also full copper base. The Quad Lumi fits Intel sockets LGA 2011 (v3) and LGA 1151 (v2). On the AMD side socket FM1, FM2, AM2+3(+) and AM4 are supported. The included is rated for an airflow of max 49 CFM.
The quad lumi has recently been tested by Kit Guru and Anandtech with varying results. Kit Guru awards the H7 Quad Lumi with a must have award, where HardOCP awards a Big Fail! Interestingly enough both use a different platform. Kitguru uses an Intel Core i7-4790K @ 1.30v and HardOCP opted for a Ryzen 7 1700 @ 3.9ghz, not mentioning anything about vCore. Other reviewers have concluded more or less the same as Kitguru also using Intel cpu's in their testplatform. This makes us wonder even more what would happen if we put the Cryorig H7 Quad Lumi on our Ryzen 7 1700X. Does it have anything to do with the mounting system of AM4? Maybe, we will test this cooler in the near future ourselfs and find out. Below you can find the benchmark from KitGuru @ 4.0 and 4.5 Ghz.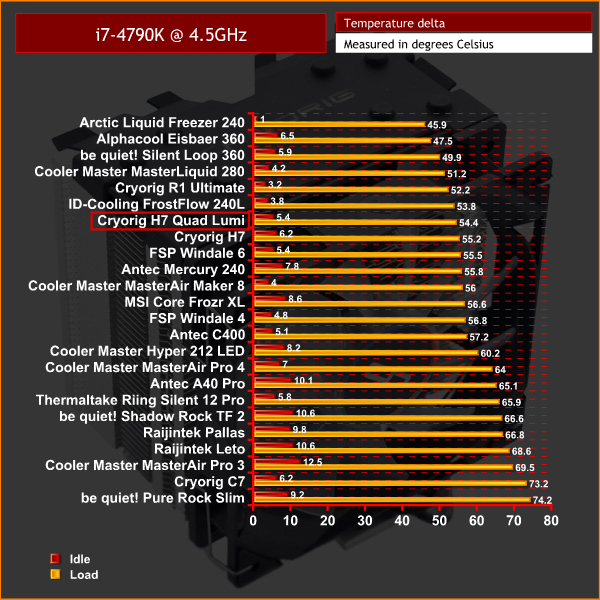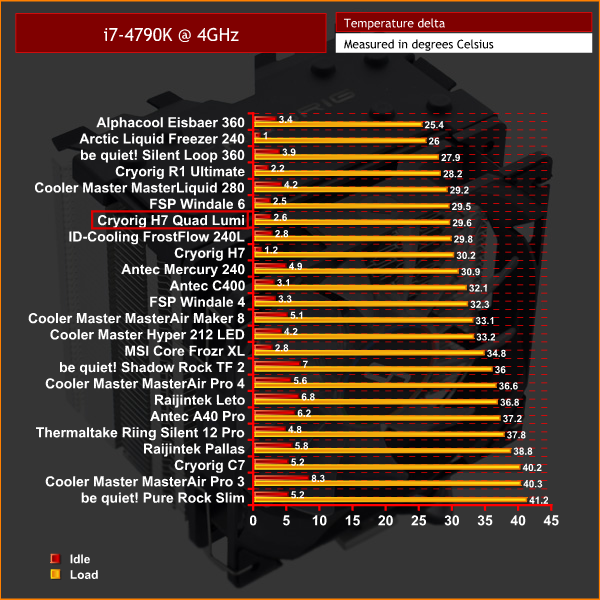 Based on the findings of Kitguru we can only conclude the Cryorig H7 Quad Lumi is a good cooler trailing 240mm AIO's. The extra heatpipe compared to the regular H7 have a positive but small effect on temperatures. For a price premium of € 30,00 over the Cryorig H7 you have to be fond of RGB, otherwise there are better performing coolers like for example the Noctua NH-D14 and Scythe Mugen 5 PCGH. But I have to admit, the Quad Lumi looks very sexy with that nice underglow! 😉