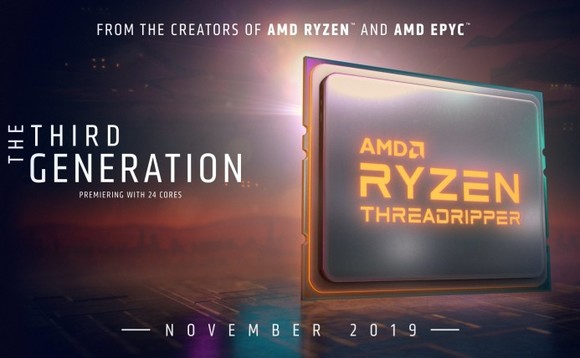 Exactly two weeks from now (25 th. November) AMD will pull the curtains on the newest generation AMD Threadripper cpu's based upon the same architecture as AMD's EPYC server cpu's.
At first the AMD Ryzen Threadripper TR 3960X and Threadripper TR 3970X will be launched, followed by the TR 3980X and TR 3990WX probably during CES 2020 which is held from January 7th untill the 10th of January in Las Vegas. As always there have been rumors surrounding the final specifications of the new cpu's even some online retailers 'accidently' leaking new SKU's on their website. Since last week AMD published new slides with info on the first two new SKU's to be released on November 25, 2019.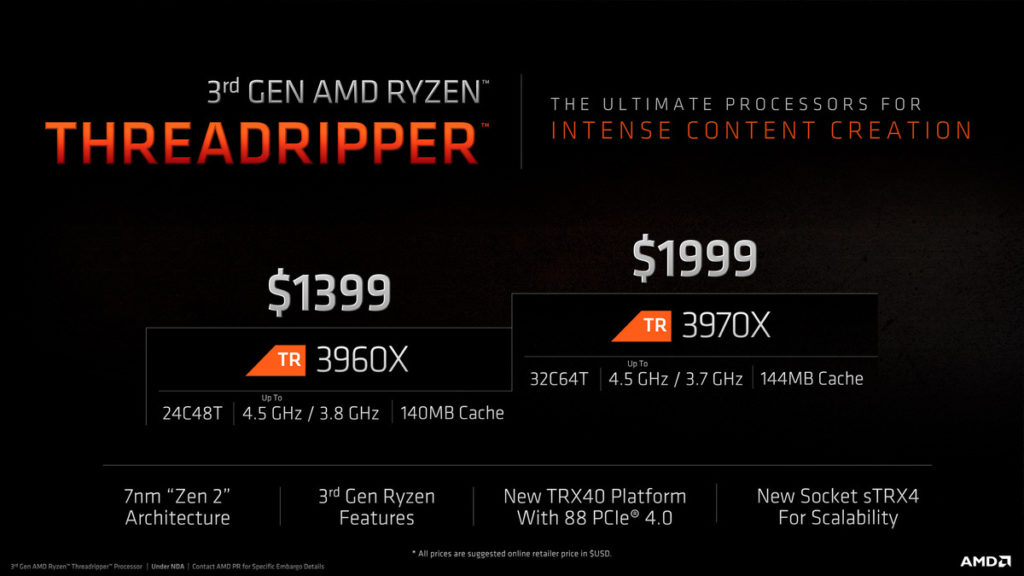 The first cpu, the Ryzen Threadripper TR 3960X features 24 cores and 48 threads with 140MB L3 cache, a baseclock of 3.8Ghz and a 4.5Ghz Boost clock. MSRP is $ 1399,00. The $ 1999,00 Ryzen Threadripper TR 3970X has eight cores more totalling 32 cores and 64 threads with 144MB of L3 cache and 3.7Ghz/4.5Ghz Base/Boost clocks. Just like previous 2000 series TR cpu's, the 3000 series also feature a lot of PCI-E lanes. This time totalling 72 lanes you can effectively use to your liking for additional SATA Devices, GPU's, Soundcards or NVMe storage. The remaining 16 lanes totalling 88 is for the communication between cpu and chipset and I/O devices.
Where some hoped they could reuse their existing X399 motherboards it became clear AMD Threadripper 3000 cpu's must be combined with an all new TRX40 series motherboard as released by Asus, MSI and Gigabyte last week. The TRX40 motherboards features PCI-E 4.0 connectivity which provides 4 times the bandwith compared to PCI-E 3.0 specs just as we saw with AMD X470 chipset to X570.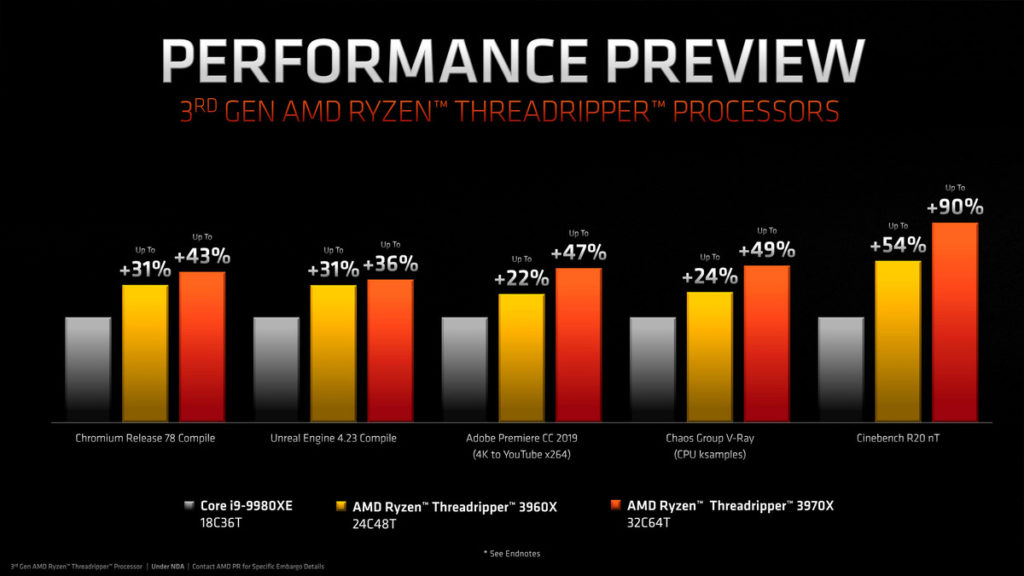 AMD did not hesitate to include some in-house performance comparisons between Intel's current (Skylake-X) Core i9-9980XE and the new Threadripper TR 3960X and Threadripper TR 3970X. So as always be carefull with the conclusions here because AMD choses the benchmarks that will let their Threadrippers excel obviously. (Intel does the same, so no blame here) We see an uprise in performance of 54% up to 90% in Cinebench R20 depending on your Threadripper 3000 cpu of choice. Biased or not, the Threadrippers are definitely faster than Intel's offering. Let's wait on the independend benchmarks to draw a final conclusion.
Source: Hardware.info, Tomshardware.com