What sort of Ray Tracing?
A lot has been written and discussed about this topic since April 2019, but in the meantime Nvidia drivers have been updated a few times and maybe improved. If you don't know what ray-tracing is visit this page that can give you a clearer image of the technique and its possibilities.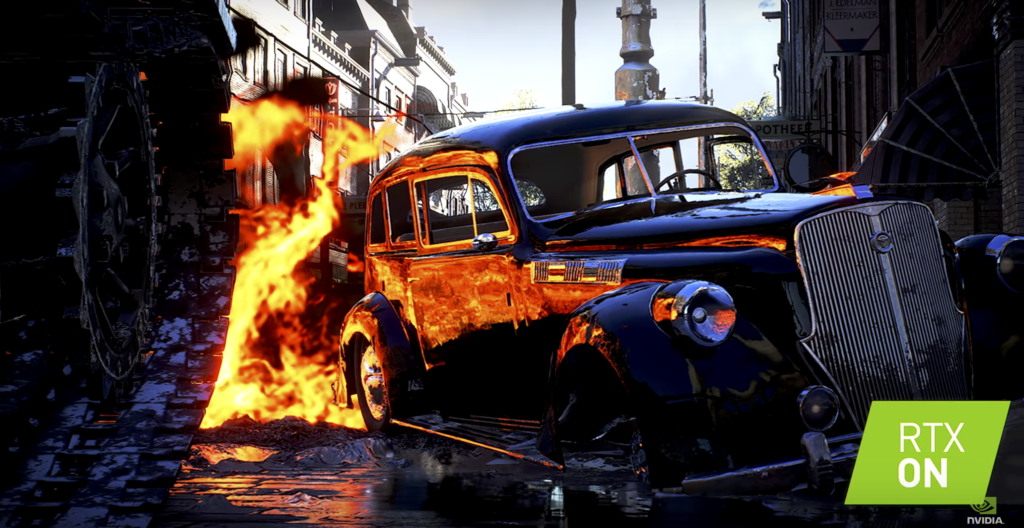 Ray tracing support is available for NVidia GTX 1060 6GB cards and up, but with less ray casting done by the card compared to a RTX 20 series cards with dedicated RTX cores. On the 10 series cards Ray Tracing is processed by using regular cuda cores instead of dedicated RTX cores. The performance hit is certainly there and heavier on cards that have lesser cores to spread the load. Even running ray-tracing on medium settings instead of Ultra with a GTX 1070, 1080 or 1080 Ti could end up severly hurting your FPS.
The impact of Ray Tracing on Performance
Today we are going to do some testing in Battlefield V to give you a comparison on the impact of RTX-On VS RTX-Off. We use this game on purpose. Battlefield V uses much less ray tracing than for example Metro Exodus, that uses RTX also for Global Illumination. This means every light source in the game is ray traced and thus puts an enormous strain on either RTX and or Cuda Cores as you can see in the Metro Exodus video below.
We included an oversight below where you can see all the RTX applications within a handfull of modern games. The RTX implementation can either be a combination of all RTX techniques or multiple forms of RT, combined with more or a lesser degree of ray intensity.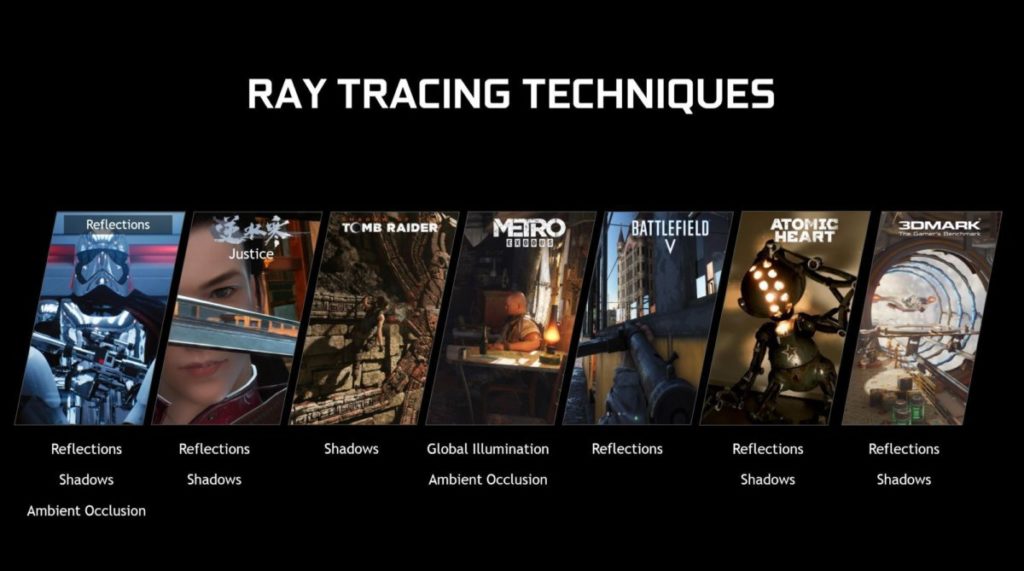 In April 2019 PCWORLD did a small review regarding RTX performance on GTX cards. You can clearly see the handling of one frame of Metro Exodus on an NVidia RTX 2080 card is more efficiëntly processed (in about 25% of the time) compared to a GTX 1080 Ti. This is due too GTX 10 series cards are not able to execute floating and non-floating point executions simultaniously, but have to handle these calculations in queue.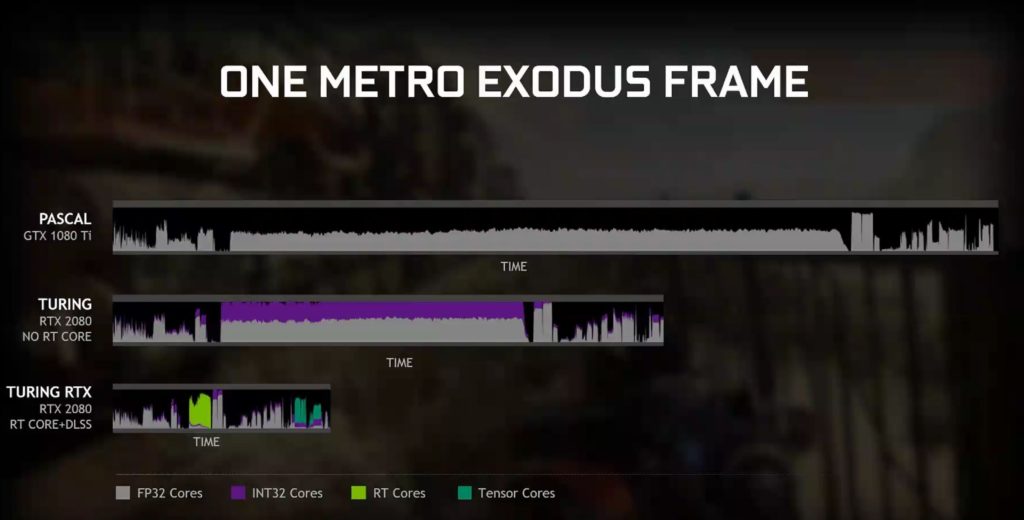 @Techjunkies.nl we are comparing a GTX 1080 Ti VS an RTX 2080 Ti on 1080P, 1440P and 4K High with RTX enabled. As mentioned above our GTX card of choice is a Gigabyte 1080 Ti Xtreme Edition 11G and for the RTX card we opt for our MSI RTX 2080 Ti Gaming X Trio. The GTX 1080 Ti is watercooled with an EKWB waterblock, the MSI RTX 2080 Ti is air cooled as it comes out of the box. Finally we enable Direct X 12 to activate RTX and DLSS on the RTX 2080 Ti. The GTX 1080 Ti has no Tensor cores and therefore no DLSS functionality can be enabled. Both cards have their power limit and temperature limits maxed out.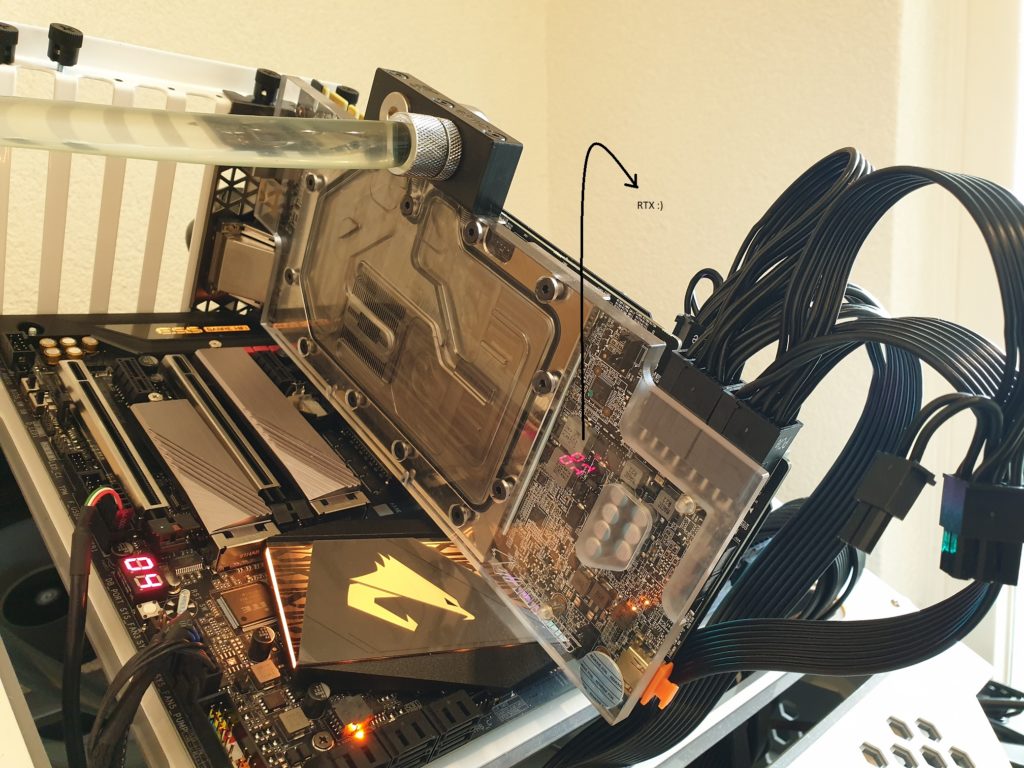 Testing RTX on our GTX 1080 Ti
Battlefield V – Frostbite Engine – 1080P, 1440P, 4K HIGH settings, RTX = HIGH, HBAO on.
RTX ON/OFF
RTX 2080 Ti vs GTX 1080 TI
2080 Ti
Min/Avg
FPS
2080 Ti
RTX OFF
FPS
1080 Ti
Min/Avg
FPS
1080 Ti
RTX OFF
FPS
Battlefield V 1080P High
81/96
172/188
30.5/55
146/168
Battlefield V 1440P High
60/73
139/157
27/36
107/125
Battlefield V 4K High
48/61
83.5/92
12/21
60/68
Well then it is conclusion time. Clearly the GTX 1080 Ti is suffering when playing with RTX enabled. Although we suspected this to happen, the impact on FPS is enormous. Especially when encountering fire effects, water reflection and mirrors (glass), the framerate plummets and the game becomes more or less unplayable. Even at 1080P when standing in a waterpool playing the opening scene of 'Tirailleur' the framerate does not go above 35 FPS.
If you really, really want RTX with your GTX 1080 Ti I suggest turning you graphic options to 1440P Medium, preferably 1080P Medium with only Textures to HIGH, HBAO off and RTX on low. Experiment a little with the different settings to find a good balance, but RTX must be low to get playable framerates. It is then in only very difficult scenes that the FPS drops below 45. For the most part it is in the 60 to 75 FPS range.
I must say that if you really pay attention to RTX the effects they are noticable. Besides that, I would suggest playing the game without RTX on and crank the eyecandy up. As you can see even at 4K High, a stock non OC GTX 1080 Ti does not drop below 60 FPS.