A bit of History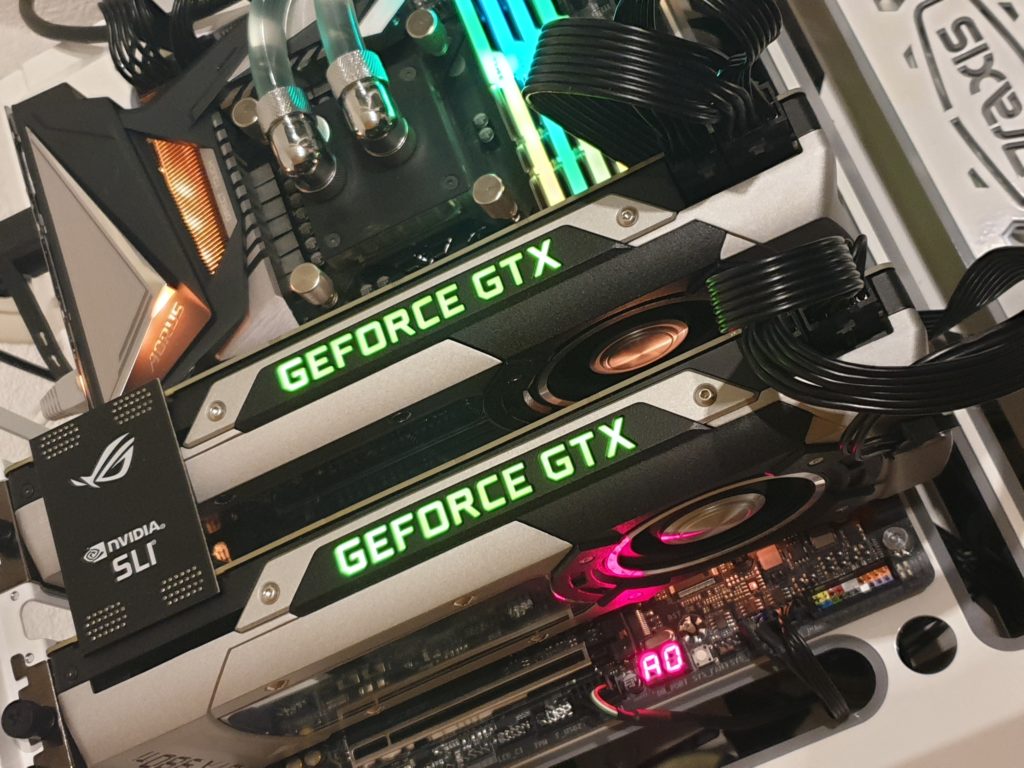 Back in September 2014 NVIDIA released two of their new Maxwell GPU's, the GTX 970 (3.5GB) 4GB and GTX 980 (4GB), followed by the Titan X 12GB in march 2015. Then in June 2015 the GTX 980 Ti was introduced and brought single (GPU) Entry 4K gaming to the masses. At launch the GTX 980 TI costed about € 600,00 – € 650,00, which in 2015 was a hefty ammount of cash for a single GPU. This is obviously nothing compared to € 1200,00 or more for RTX 2080 TI's we have to pay today. This made us wonder how one or two GTX 980 Ti's in SLI perform in 2019? Can we come close to the performance of the RTX 2080 Ti? We have two GTX 980 Ti FE editions laying around collecting dust at the moment. So why not test them again with 2019 drivers and hardware and let them stretch their legs once more? A little sidenote, we are even looking into a third sample to test overkill TRI-SLI. But for that you have to wait a little bit longer. 🙂
NVidia GTX 980 Ti Specs
First the specs of the 980 TI: 2816 Cuda Cores, 6GB of GDDR5 RAM, 1000/1075 mhz base/boost clock and 1750 Mhz for the GDDR5 memory. The memory communicates through a 256-bit bus with the GPU. Both GPU's are relatively new and based on the Founders Edition. One i received from Asus when my first GTX 980 TI died due too a resistor on the VRM blowing up. The card was out of warranty but they replaced it for me. (great service thanks Asus) The other I Bought from ebay which is an EVGA GTX 980 Ti FE.
Test setup
Recently we updated our test setup consisting of an Intel Core i9-9900K @ 5.0GHZ (all core 1.28v), a Gigabyte Z390 Aorus Master mainboard, 32GB (4x8gb) of G-Skill Trident-Z 3200mhz CL14 RGB RAM and a Corsair HX1000i PSU. Our 9900KH CPU (Where H stands for HOT) is cooled by a EKWB D5 pump res combo with a 360mm Alphacool radiator and EKWB Supremacy MX CPU Block.
SLI Support in 2019?
We install the latest driver from NVidia's website which is version 436.15 at this moment of writing and we enable SLI. One sidemark…. Before you rush off to Craigslist or Ebay to pickup one or two 980 TI's, be aware of the fact that not all games support SLI now and in the future. The games we test today do support SLI, and for those games that don't support SLI out of the box, we made some adaptations using Nvidia Profile Inspector. Battlefield 5 is one of the games we use today that needs some adaptation for SLI to work properly. Follow this link on how to setup your BF5 for NVidia SLI.
Our game test suite of today consists of: The Rise of the Tombraider, Grand Theft Auto V (4K only), Far Cry 5, Crysis 3 and Battlefield 5. Both 980TI's will be compared to today's king of performance, an MSI RTX 2080 Ti Gaming X Trio. We want to compare Apples to Apples so no RTX cores or DLSS functionality has been activated in these benchmarks.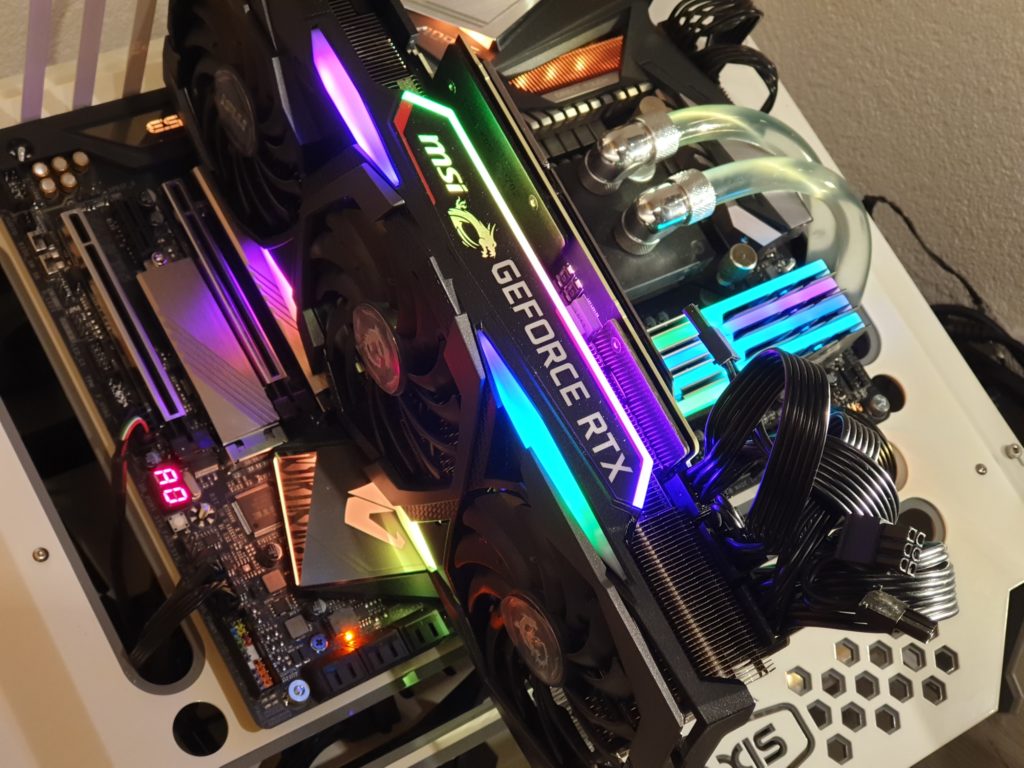 The Benchmarks
To give you the best oversight we compiled a table per game. We use in-game presets based on High or Very High, 1440P and 4K presets. We run our benchmarks using Direct X11, due too Direct X12 not supporting SLI. We run both cards at their out of the box stock clocks, only a max power and temperature limit wil be applied letting the cards control their boost behavior based on temperature and power reserve. We also use the same custom fan profile for both cards preferring low temperature over low noise. MSI Afterburner with Riva Statistics Tuner is used to record our FPS and monitor temperatures and anomalies may they occur.
Battlefield V – Frostbite Engine
RTX 2080 Ti
Min/Avg FPS
GTX 980 Ti SLI
Min/Avg FPS
% Dif
Avg FPS
Battlefield 5 1440P High
139.8 – 157.2
109.2 – 123.8
-21.2%
Battlefield 5 1440P Ultra
127.2 – 139.9
93.2 – 109.2
-21.9%
Battlefield 5 4K High
83.5 – 91.8
62.3 – 71.8
-21.8%
Battlefield 5 4K Ultra
77.8 – 86.3
59.8 – 68.0
-21.2%
Far Cry 5 – Dunia Engine
RTX 2080 Ti
Min/Avg FPS
GTX 980 Ti SLI
Min/Avg FPS
% Dif
Avg FPS
Far Cry 5 1440P High
131 – 146
92 – 99
-32.2 %
Far Cry 5 1440P V. High
115 – 137
84 – 93
-32.1%
Far Cry 5 4K High
75 – 84
48 – 53
-36.9%
Far Cry 5 4K V. High
72 – 80
43 – 50
-37.5%
Rise of the Tombraider – Foundation Engine
RTX 2080 Ti
Min/Avg FPS
GTX 980 Ti SLI
Min/Avg FPS
% Dif
Avg FPS
ROTR 1440P High
78.35 – 179.7
56.53 – 107.99
-39.9%
ROTR 1440P V. High
76.66 – 153.26
40.52 – 96.92
-36.8%
ROTR 4K High
64.26 – 108.9
32.45 – 71.13
-34.7%
ROTR 4K V. High
58.32 – 91.7
27.08 – 62.71
-31.6%
Crysis 3 – CryEngine 3
RTX 2080 Ti
Min/Avg FPS
GTX 980 Ti SLI
Min/Avg FPS
% Dif
Avg FPS
Crysis 3 1440P High
120.6 – 215.3
119.4 – 186.4
-13.4%
Crysis 3 1440P V. High
114.9 – 136.2
99.2 – 116.4
-14.5%
Crysis 3 4K High
92.8 – 110.4
76.3 – 88.0
-20.2%
Crysis 3 4K V. High
56.6 – 69.8
47.9 – 54.7
-21.6%
GTA V – Rockstar Advanced Game Engine (RAGE)
RTX 2080 Ti
Min/Avg FPS
GTX 980 Ti SLI
Min/Avg FPS
% Dif
Avg FPS
Battlefield 5 4K High
123.2 – 156.4
114.8 – 132.4
-15.1%
Battlefield 5 4K V. High
91.7 – 127.1
87.7 – 96.9
-23.7%
Conclusion, the bad and the ugly.
Upfront we knew we could expect differences in SLI scaling. Battlefield V, Tombraider and Far Cry 5 scale lineary when upping the resolution and eye candy, performance stays within the expected range and is great to say the least. In GTA 5 and Crysis 3 the SLI setup suffers more when upping the resolution from 1440P to 4K. Also sudden changes in environments and game effects can cause more strain dropping FPS. This can either be the game engine vs SLI in combination with the limiting factor of 6GB GDDR5 on the 980 Ti cards, which becomes more of an issue when gaming @ 4K resolution.
We did experience a few drawbacks with the SLI setup. Especially in Crysis 3 we saw more FPS fluctuation and some scenes had some micro stuttering. In GTA V our problems were more related to Afterburner running in the background sometimes crashing the game out of nothing. When closing afterburner everyhing was fine. Last but not least we had to finetune our SLI setup as previously mentioned with NVidia Profile Inspector, that worked great by the way. Just don't expect an out of the box performance you get with an RTX 2080 Ti or regular RTX 2080 for that matter, which is for 99% of the time plug and play.
Despite these facts, we see an overall performance difference of 30% across the board in favor of the RTX 2080 Ti. We can confidently say that a 980 Ti SLI setup running a supported game is definitely no slouch. Both cards deliver a constant 4K 60FPS experience. In the two situations that it didn't we could easily turn down a few settings to reach the 4K 60FPS target. Please remember we are talking about a used $ 400,00 SLI setup vs a $ 1200,00 single RTX 2080 Ti.
Please let us know in the comments what you think about this review. Maybe you also own a 980 Ti and planning to buy another one for SLI now the prices are around the $ 200,00 mark. We really had fun compiling the data and seeing these almost 5 year old cards performing the way they did. You hate or you love the design of the FE coolers, but somehow they always turn a smile on our faces.