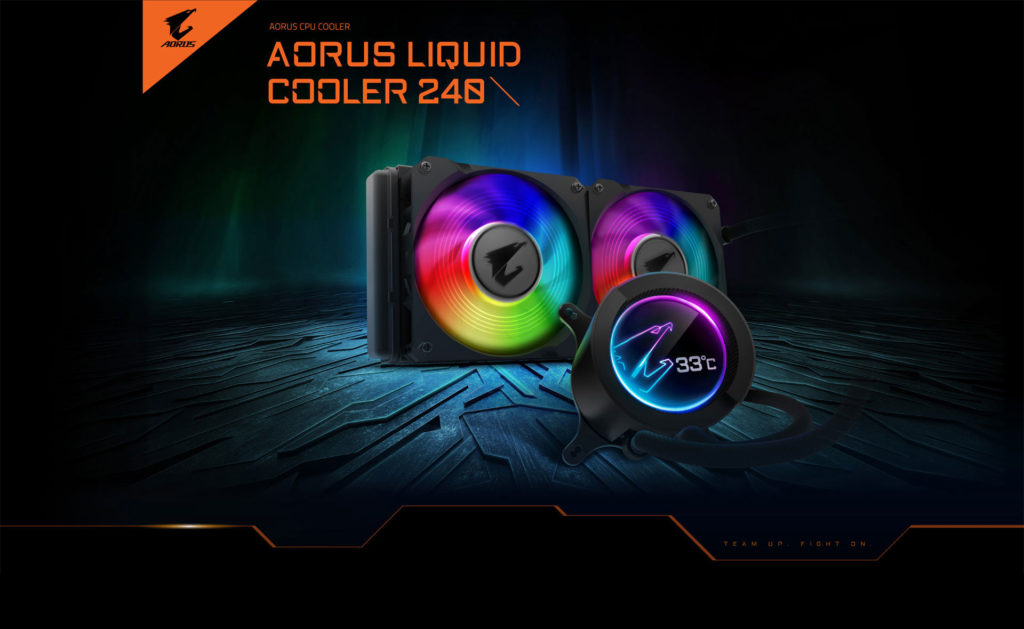 NZXT was the first well known company to equip lcd screens to their Kraken X series AIO coolers in 2016, followed by Asus with the Ryuo 240 and Asus Ryujin 360 during winter 2018. Now in 2019 we see Gigabyte launch a new line-up of CPU AIO coolers called Gigabyte Aorus Liquid Cooler. And yes it is fitted with an LCD screen! Gigabyte is not new to CPU cooling having introduced the Gigabyte ATC-700 and more recently their 200W TDP air cooler, the Gigabyte RGB ATC-800.
I think Gigabyte is now active in every sub category of the hardware market. From keyboards, mouses and cases, to DDR4 memory, cooling and most importantly motherboards. I was amazed how fast this company is growing lately. But that is just a little sidenote.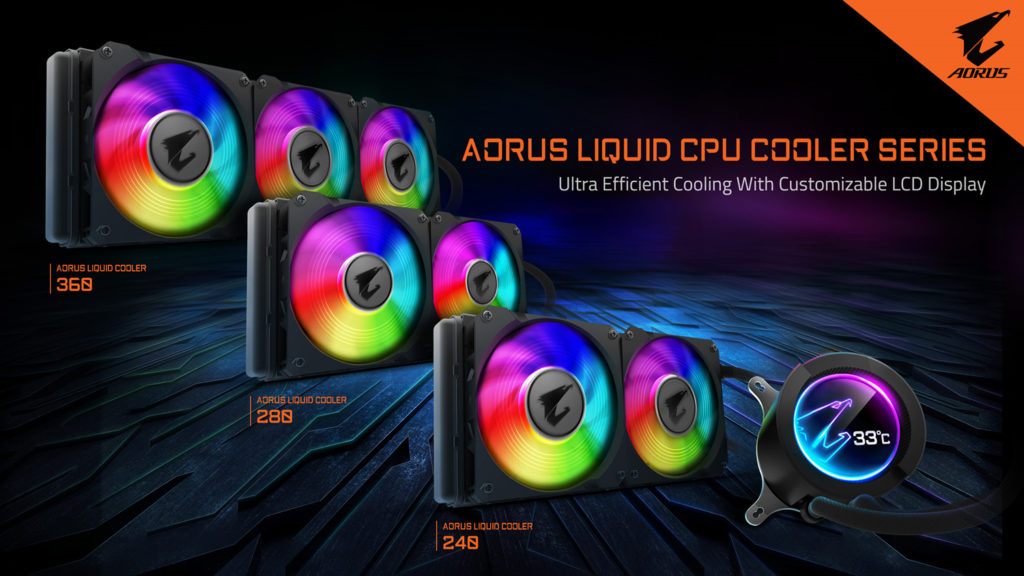 As mentioned in the beginning of this Article, Gigabyte is definitely targeting the Asus AIO solutions as both products having similar functionality. If the user chooses to install Aorus Engine, (s)he is able to select CPU model name, clock rates, temperatures, fan RPM/pump RPM to display on their LCD pump cap. Even Text and image files can be displayed on the LCD and controlled. Furthermore, the control users have over their system extends to RGB Fusion 2.0, which allows users to sync up the RGB functions on their peripherals.
The new Gigabyte Aorus AIO's will be available in 3 radiator sizes, 240/280/360 and with full support for Intel 2066, 2011,1366,115x and AMD TR4, AM4 socket CPUs. The integrated pump is based on the Asetek Gen6 Pump which is also found in for example the Corsair H150i. The fans on the Aorus AIO are dual ball bearing, feature ARGB lighting and the blades have a special pattern which according to Gigabyte reduces fan noise.
What I personally like about the Aorus AIO's is the abundance of Gigabyte logo's that normally have been everywhere. This makes it easier to fit in a wider range of pc's, not disturbing a particular theme or color scheme. Good Job! We look forward testing the claim of Gigabyte stating the Gigabyte Liquid Cooler tested up to 7% cooler than other AIO coolers in the market when running Intel® i9 9900K CPUs at all cores 5GHz+.
For more details, please visit the official AORUS Website: https://www.aorus.com/AORUS-LIQUID-COOLER-240