Introduction
Today we received a kit of Teamgroup Night Hawk 2x8Gb 3200 Mhz RGB Ram in white. Ever since i've seen this RAM for the first time, I put it on my wishlist for it's nice design, white heatspreaders and RGB lighting compatible via Aura Sync, RGB Fusion, MSI Mystic Light or Teamgroups standalone T-Force Blitz Software. Yes, sorry guys being a bit subjective here, but if you don't agree, please share in the comments or take a look at the Black variant which is also available.
Despite looking good and costing  only € 185,00, performance is the other side of the medal and should be on par with current other offerings in the market. Today we take a look at the TG Night Hawk's features and compare it's performance against a € 251,00 G-Skill Trident-Z RGB 3200mhz CL14 kit. Our testsystem for today consist of the following components.
Asus ROG Z270 Maximus IX APEX
Intel Core i7-7700K @ stock clocks
Teamgroup Nighthawk 2×8 GB 3200 Mhz RGB vs G-Skill Trident-Z 2×8 GB 3200 Mhz RGB Both clocked at CL 16-18-18-38 2T
ADATA 500GB SSD
Geforce GTX 980 Ti 6GB –> Just died after the review….. I will tell you the ins and outs in another blog. 
Cooler Master G750M PSU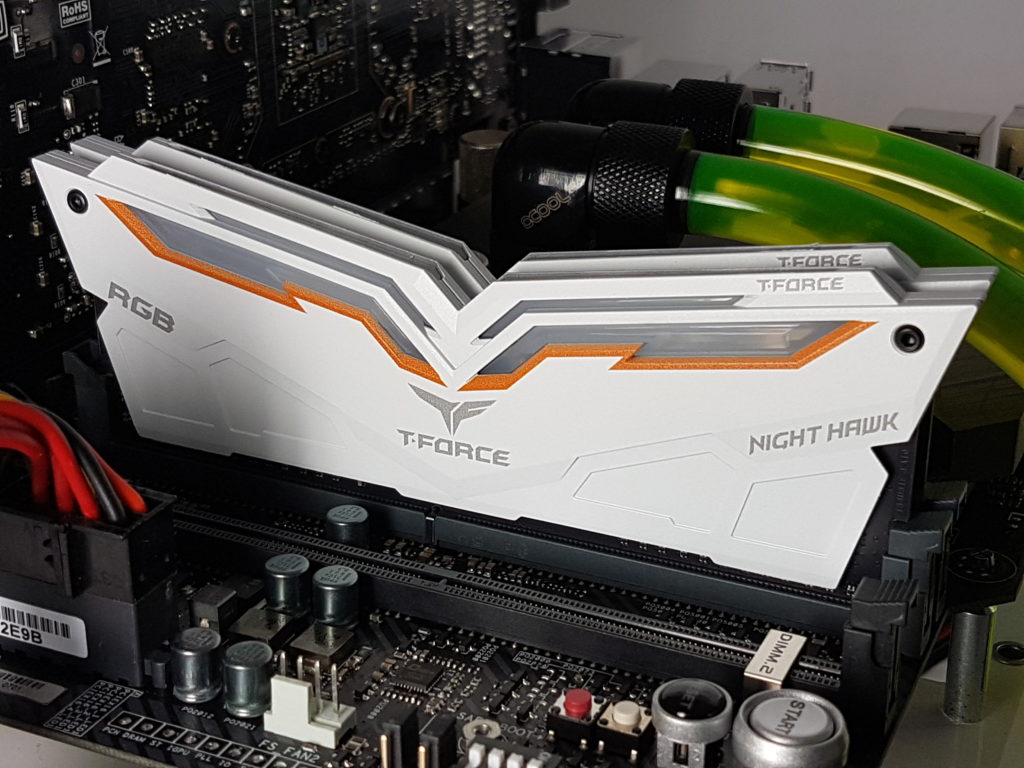 G-Skill Trident- Z RGB vs Team Nigh Hawk RGB.
As we have just mentioned, choosing your desired memory is a matter of taste. Today almost all components have RGB flavors and every respected RAM manufacturer has an RGB kit in it's line up. G-Skill was one of the first clever companies to implement Asus Aura lighting compatibility, which certainly made it very succesfull in the RGB market enabling customers to sync up their RAM RGB lighting with the rest of their system components. A lot of RAM manufacturers followed this example and today their is wide support for Asus AURA, Gigabyte Fusion and MSI Mystic Light with either the G-Skill Trident-Z RGB as the Team Night Hawk modules. Where the Trident-Z RGB memory has the classic well know saw tooth patterned heat spreader, the Night Hawk looks more exotic to the eye.
Once the Night Hawks are placed in your system with the mothebord in a vertical orientation it can totally transform a system from dull to very interesting.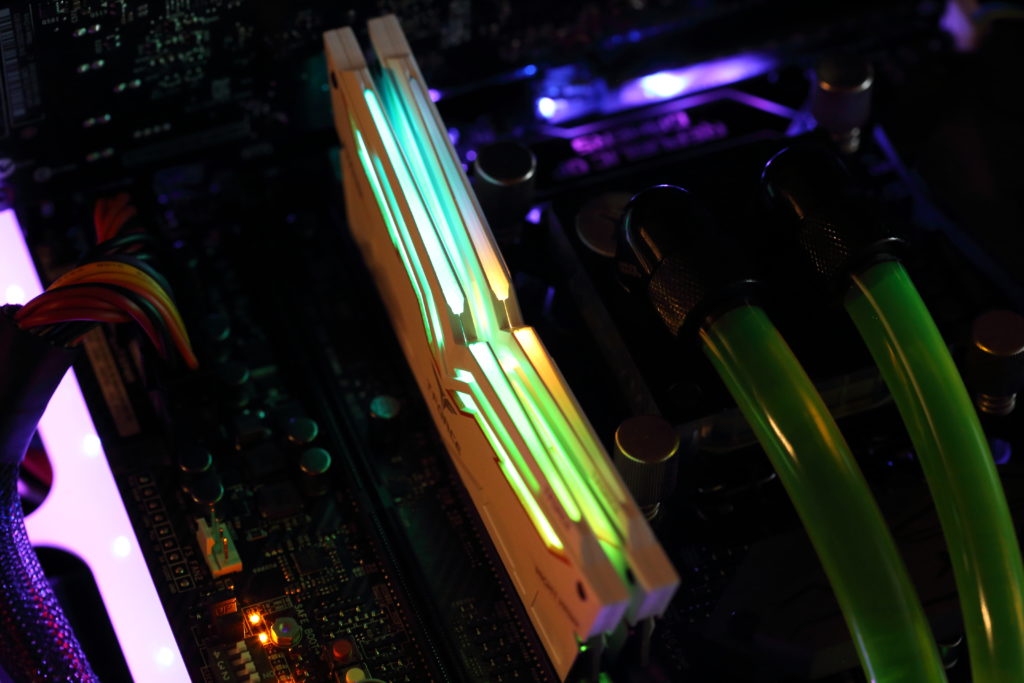 Lighting is controlled through Teams T-Force Blitz or Asus Aura if that is already installed on your system. This enables all kinds of RGB effects ranging from Comet to Starry Night, Static lighting and rainbow effects. All very nice, but going through the settings I think i will just leave it at the standard out of the box settings or set a static color matching the rest of my system.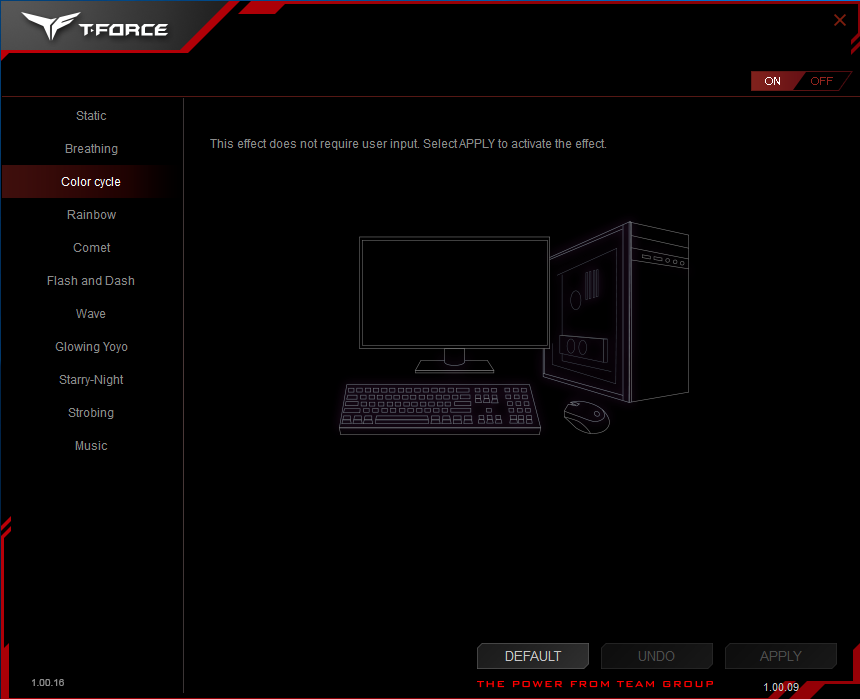 Benchmarks
We have put the Night Hawk through its paces and compared it to the fast 3200 Mhz 14-14-14-34 G-Skill Trident-Z RGB with XMP enabled. Does it make a difference on our Kaby Lake 7700K testbed? you can find out below!
As we can see, overclocking the Team Night Hawk RGB certainly improves our synthetic performance. A sidemark here, pushing the memory to 3600 Mhz on our testbench required 1.2v to the cpu's memory controller and 1.35v to the memory itself otherwise it would BSOD. The 3333 Mhz setting proofed to be the most efficient scoring just a tad below the 3600 Mhz OC @ XMP voltages. Doing this let's the Night Hawk perform almost on par with the G-Skill Trident-Z RGB, which we should not forget costs € 80,00 more than the Team Night Hawk kit. In the end it is a tradeoff wether or not you want the 3600 Mhz OC because while it looks cool in synthetic benchmarks it does not bring a lot in terms of real world performance and it does put more strain on the cpu's memory controller resulting in a hotter cpu.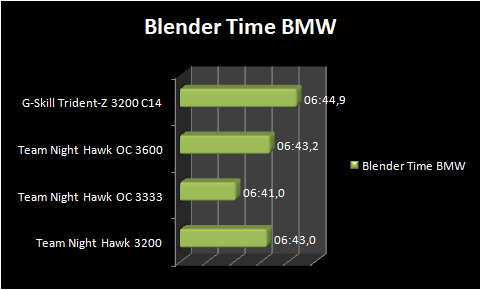 Conclusion
In Blender we see a 2 seconds advantage of a 3333 Mhz memory setting but this is two seconds. Interestingly the CL14 Trident-Z actually loses to the Night Hawks. We have rerun the tests a few times to confirm and it was consistent.
Running Far Cry 5 on all these memory settings with a Geforce GTX 980 Ti produced the same results. 91 FPS average and 80 FPS minimum. Would this have been a Ryzen platform where memory speed matters more than on Intel based systems, these results could have been different. Maybe we will test this in the nearby future. For now we can conclude that the Team Night Hawk RGB 3200 Kit is a very nice addition to your system if you like the exotic shape and RGB flavors. Performing (with a mild overclock) on par with the leading G-Skill Trident-Z 3200 CL14 RGB, costing considerably less, and having the same good software support we can only highly recommend this memory kit!