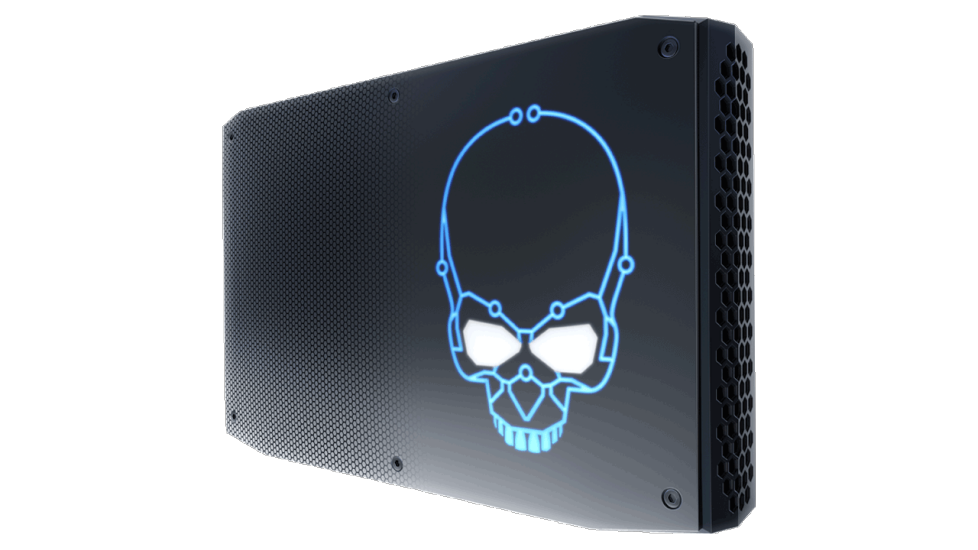 Intel released it's long awaited HADES Canyon cpu line-up last month featuring an Intel cpu with integrated AMD RX Vega graphics. Intel's first attempt providing the masses with the power of these new cpu's is through the introduction of a new Intel NUC series. From a business standpoint these Intel NUC's have always been very succesful in the previous generations, having a small footprint, VESA mounting compatibility to the back of a monitor and very low power usage.
But what can we expect from these new NUC's, does that RX Vega iGPU really make a difference compared to the previous IRIS PRO 580? Let's dive into the specs first. Intel has two new NUC flavors for release in spring 2018, the NUC8i7HVK and the NUC8i7HNK measuring only 221mm x 142mm x 39mm. The NUC8i7HVK $999,00 features the top of the line HC Intel Core i7-8809G cpu with a 100W TDP and integrated Radeon™ RX Vega M GH graphics, featuring 24 Compute units with 1536 shaders units and clocked @ 1063 – 1190 MHz. The Hades Canyon NUC8i7HNK $799,00 features an Intel Core i7-8705G @ 65W TDP with an integrated Radeon™ RX Vega M GL iGPU, having 20 CUs, with 1280 shaders units and is clocked from 931 – 1011 MHz. Both NUC's are barebones meaning you have to add your own DDR4 memory and M.2. SSD('S).
DIY activities aside, there are a lot of integrated connectivity options including Intel® Wireless-AC 8265 + Bluetooth 4.2, dual ethernet ports, 2x Mini-DP 1.2, 2x Thunderbolt 3, F+R HDMI 2.0a. Furthermore there is room for two m.2. NVME SSD's, a maximum of 32GB DDR4 RAM(SO DIMMS) 2x Thunderbolt 3 (40Gbps) via rear USB-C ports, SDXC card slot and front USB-A and USB-C ports w/ USB 3.1 Gen 2.
But how well does it perform out of the box? To give you some indication we compared some benchmarks we found online. You can find them below.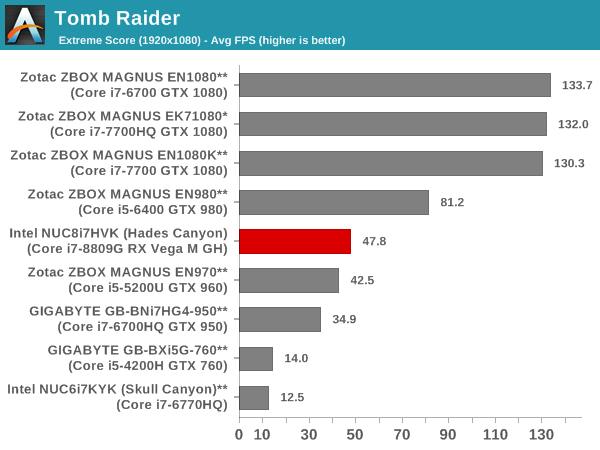 Anandtech test NUC8i7HVK with Radeon™ RX Vega M GH graphics.
The Intel NUC8i7HVK performs very good, almost 50 FPS in TRTR. Remember there is no dedicated videocard here! Only a Intel Core i7 cpu with integrated graphics packed in a pc that fits a woman's purse. That said a fully configured NUC8i7HVK costs € 1400,00+. For this money you can also build yourself a fully fledged game pc with an NVidia GTX 1060 6g or maybe a GTX 1070 8G if you can temper yourself choosing your CPU and motherboard. SFX form factor and low power usage comes at a price. If you want to compare the new Hades Canyon NUC's follow this link.