The use of Thunderbolt 3 devices is becoming more and more popular. TB 3 is becoming a standard issue in new iMACs, motherboards, laptops and finds its way to MAC/PC monitors, not only to transfer data but also serving as a 4K and 5K display cable. But why should you invest in relatively expensive Thunderbolt 3 connections? First, you will have less cables which is always good! And second, when using a Thunderbolt 3 connection, the user profits of blazing fast transfer speeds through a PCI-E 4x connection which in theory tops out somewhere around the 3.500 MB/s mark (PCI-E 3.0 4x or PCI-E 2.0 8x specifications). Where i have multiple external USB 3.0 harddisks at my disposal, an offsite backup of my entire photo history takes up more than a few hours to a regular USB 3.0 disk. Using a connection with TB 3 specifications the job will be done 10 times faster.
There are many external storage devices claiming to use the Thunderbolt 3 connection, but have to deal with slower controllers on the Disk/SSD side. Most of the times they use an internal SATA-600 interface that is backwards compatible with the Thunderbolt connection, communicating at speeds of max. 600 MB/s.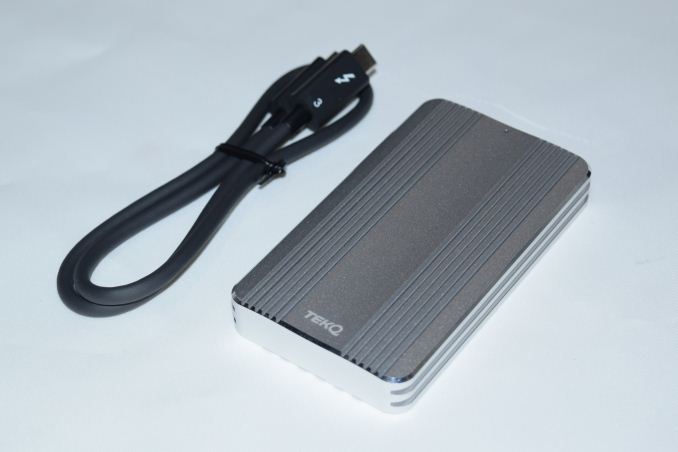 PC perspective and Anandtech recently reviewed the new TEKQ Rapide 480 GB which is a Thunderbolt 3.0 external SSD compatible with Windows and iOS placed in an aluminium housing that passively cools the internal M.2 SSD. As we know, M.2. SSD's can run quite hot, resulting in unwanted thermal throtteling. Direct cooling and using the housing as a heatsink is a nice feature. The benchmarks below is performed on a Asus Zenbook 3 Deluxe with a Thunderbolt 3 connection to a Phison E7 controller on the SSD side. TEKQ claims maximum read and write speeds of 2700/1500 MBPS.
In both benchmarks the TEKQ 480 holds up to its promise performing according to the claims of its creators. An external drive firing at these speeds certainly leaves the competition behind for now. The cons are obviously price. coming in at € 380,00, the TEKQ cannot be qualified as being a cheap storage solution. Certainly the price can be justified if your office workflow requires the speed for external data storage in general.
If you want to learn more about Thunderbolt in general you might want to visit tested.com where they explain the coherence of PCI-E and Thunderbolt. Also the website of Thunderbolt technology can be very informative.