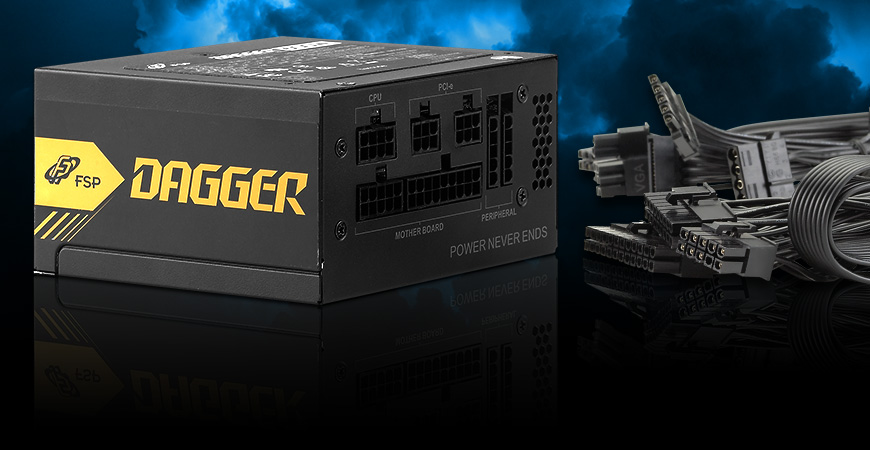 The FSP Group, for many Europeans a relatively unknown company, despite having their headquarters closeby in Germany Willich, and releasing some high end PSU's lately. FSP recently teamed up with the watercooling geeks of Bitspower to create the world's only liquid cooled PSU, the FTP HYDRO PTM+. Stepping into the forground and positioning themselves as PC Enthousiasts quickly generated a lot of awareness in the industry.
The newest addition to FSP's Dagger lineup is the FSP Dagger 600W SFX. The name already implies we are dealing with a small form factor PSU (125 x63.5 x110 mm), dedicated to small ITX builds and mediacenters. The FSP Dagger delivers 50A at the 12V rail making it suited for high end videocards cooling the whole unit with a very silent 80mm fan. Running SLI or Crossfire on this PSU is something you could do, but only if your setup has one 8-pin PCI-E connector per card.
ATX 24
4+4 PIN
PCI-E 6+2
SATA
Molex
(PERIPHERAL)
Floppy
Connectors
1
1
2
5
2
1
The term VR Ready is in our opinion something manufacturers use to give it some extra attention, but what means VR ready? Is the PSU able to power a high end graphics card that should process the VR images? Aren't all PSU's with a good power rating able to do the same trick?
Nonetheless, the Dagger 600W delivers a nice and complete package along with an 80 Plus Gold certificate, meaning it should deliver it's power @ 92% efficiency @ 50% load, Full modular design and being a real SFX (not SFX-L) it makes life easier installing this small unit in a cramped case. FSP also includes a bracket for easy fitting into standard PS2 ATX cases.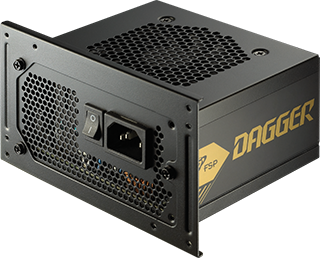 The guys of Quasarzone tested the Daggers 600W efficiency and came up with the results below. The FSP Dagger 600W delivers more than promised. At 35% load we see an efficiency rating of 92%, between 35 and 60% load, only dropping off as far as 88% efficiency at full load. The Dagger 600W proves to be direct competitor for Corsairs SF600 SFX PSU, having the same pricetag of roughly € 100,00.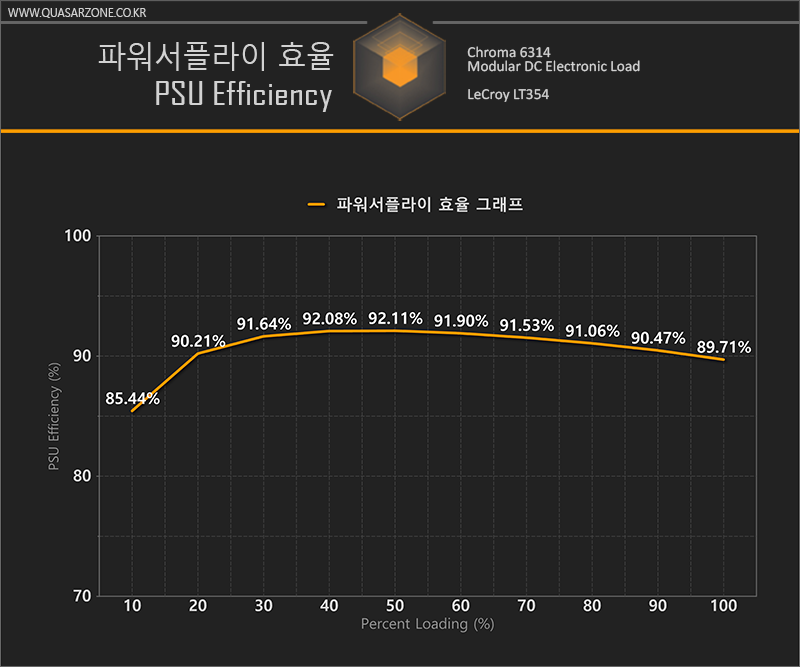 Compliance with Micro ATX PC
Compliance with newest SFX12V V3.3 & ATX12V V2.4
80 PLUS® Gold certified
Efficiency ≧ 90% at typical load
100% Japan-made electrolytic capacitors
High quality 80mm dual ball bearing fan
Advanced full modular design with ribbon cables
Powerful single +12V rail design
Intel Skylake ready
Full protections OCP, OVP, SCP, OPP, OCP, OTP